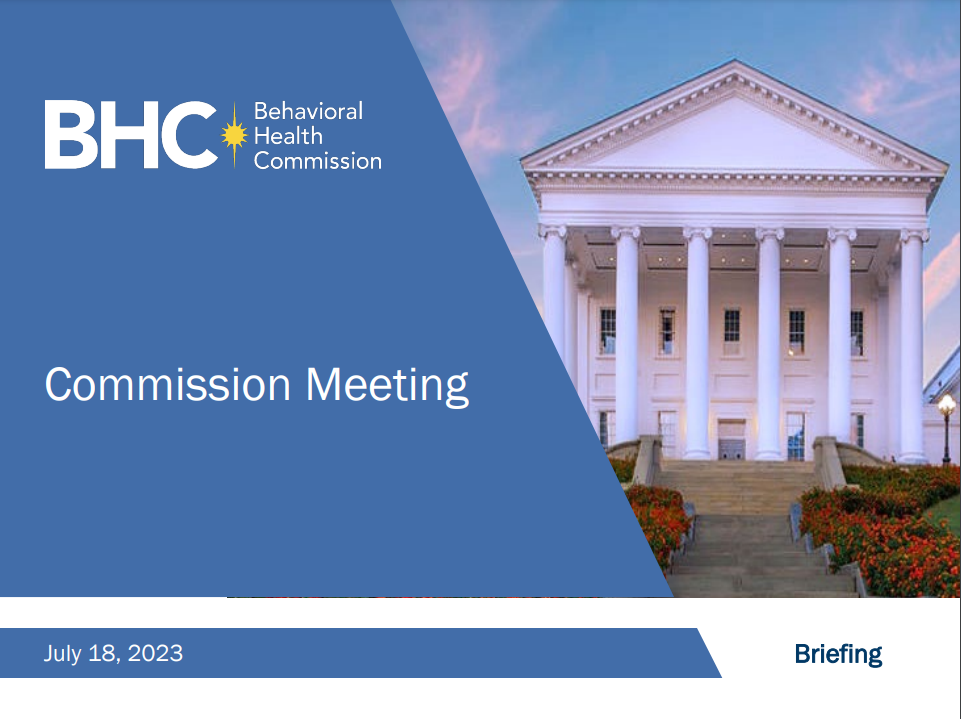 On July 18, members of the Behavioral Health Commission met at the Richmond Behavioral Health Authority, where they adopted a strategic plan and received several updates from staff on ongoing efforts, as well as a briefing from representatives of the University of Virginia School of Law's State and Local Government Policy Center on ways to improve Virginia's crisis response system.
In addition to the presentation at the meeting, Commission members received a research memorandum from Thomas Driscoll, Carson White, and Andrew Block, two law students and the director of the State and Local Government Policy Center, respectively, analyzing national best practices for a crisis response system, where Virginia's system stands relative to those national best practices, and what investments would be needed for Virginia to achieve national standards. The memorandum outlines national best practices that are building blocks of a "no wrong door" crisis response system, including regional call centers, mobile crisis response teams, and crisis receiving and stabilization programs. Using a national model, the authors estimate that Virginia will need $790 million annually ($300 million more than currently funded, not counting current budget proposals) for a crisis system that meets national standards. These dollars would support additional mobile crisis teams to enable responses within 90 minutes; Virginia has 36 teams now and would need at least 64 to meet national models, although state estimates indicate 70 teams are needed to meet a goal of responding to crises within one hour. The additional funding would also enhance Virginia's supply of short-term crisis stabilization beds (from 252 to 398) and crisis receiving center slots (from 186 to 468). In their presentation to the Commission, Center representatives offered several recommendations about the Commission's role in supporting the buildout of Virginia's crisis response system over time, including a proposal that the Commission work with the Administration and money committees to establish financial and operational goals for an effective system, as well as benchmarks for required performance reports by relevant agencies. The full memorandum is available at this link.
Commission staff reported on their efforts to seek feedback from interested parties on the Commission's proposed strategic plan, which the Commission subsequently adopted. Key elements of the plan are a set of strategic goals, to include establishing a complete continuum of care, with timely access to services statewide, as well as the Commission's role in building on existing efforts to improve the behavioral health system. One area of planned focus for the Commission is monitoring program implementation, and staff provided an update on their plans for the remainder of 2023, which will feature monitoring of STEP-VA, the redesign of behavioral health coverage within the state's Medicaid program, and permanent supportive housing. Staff monitoring will involve determining the extent to which implementation is consistent with targeted milestones, whether programs are implemented in a way to bring about desired results, and whether services and programs are achieving desired results.
Commission members received recommendations from a group of stakeholders regarding ways that the Commission could consult with individuals who have experience with the behavioral health system, to include possible regional meetings with Commission members in different parts of the state. Staff indicated that they will be conducting surveys of stakeholders annually and incorporating interviews into research projects.
Slides from the meeting are available at this link. The Commission's next meeting is scheduled for September 19.
VACo Contact: Katie Boyle