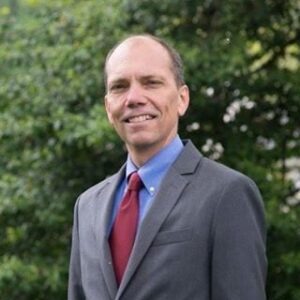 Arlington County government is mourning the death of County Board Vice-Chair Erik Gutshall, who died of brain cancer on Thursday, April 16, 2020. Gutshall, 49, had announced on April 6 that he was resigning from the Board due to ill health. In his honor, County Manager Mark Schwartz on Friday ordered that the flag outside the Ellen M. Bozman Government Center be lowered to half-staff for seven days.
"We lost our friend and colleague, our vice-chair, Erik Gutshall, to brain cancer yesterday. We are heartbroken," County Board Chair Libby Garvey said.  "Erik loved being a Board member and loved Arlington. His death is a loss for us all, but especially for his family. Our thoughts and prayers are with them. In the coming days, my colleagues and I will be considering how best we can honor Erik's life and service."
Renee Gutshall announced her husband's death Thursday night on Facebook, just 10 days after he announced that he was leaving the hospital, where he had undergone treatment for a month, to quarantine at home with his family.
"It is with a broken heart that I share this news," Renee Gutshall wrote Thursday. "Today the sweetest, most amazing man has lost his battle with brain cancer. It was only 8 weeks ago that Erik Gutshall received this diagnosis, leaving us too quickly but peacefully today surrounded in love by his family." The family, she wrote, "will share information about a memorial service "once we're beyond the current COVID-19 crisis."
Gutshall is survived by his wife and their three daughters.
Garvey said that Board Members will pause for a minute of silence before beginning their weekly COVID-19 Virtual Town Hall at noon on Friday, April 17 to recognize Mr. Gutshall's passing.
Gutshall's colleagues on the Board, and the County Manager, expressed shock, sadness, and deep appreciation for Gutshall's service on the Board and commitment to the Arlington community."
Erik was a visionary when it came to our community," Board Member Katie Cristol said. "He understood how every neighborhood plan, park and bus route affected people's lives and connected us to one another as fellow citizens. I feel so fortunate to have learned from and worked with Erik as a colleague and a friend and am devastated by the loss of an extraordinary Arlingtonian."
"Erik's passion for Arlington is what made him a valued public servant, and his love for his family made him a model individual," County Board Member Christian Dorsey said. " I can only hope that their shared love and many memories can be sources of comfort to the Gutshalls as we mourn his death."
"Erik led by asking the most important questions and encouraging us to reach for the best in ourselves. Like so many Arlington residents, I will miss him very much: he was a brother and mentor to me," County Board Member Matt de Ferranti said. "I join my colleagues in asking that we hold Erik's wife Renee and his three daughters in our hearts and that we do all we can to support them."
County Manager Mark Schwartz recalled that "it was only a few months ago that Erik spoke of his vision for this year and the future," in his New Year's remarks. "I was honored to work with him, and for a far too brief period of time, to have had the chance to learn and be guided by his insight, determination, intellect, and humor. My sympathy is with his family, and I am grateful to them for having shared Erik with all of us through his years of community service."
Gutshall, a former Chair of the County's Planning Commission, was elected to the County Board in November 2017. During his time on the Board, he was a passionate advocate for sustainability and inclusion. He championed policies to protect the environment and combat climate change and to expand the County's supply of affordable housing.
Gutshall, the founder, and president, of Clarendon Home Services, became an active community volunteer shortly after he and his wife moved to the Lyon Park neighborhood in 1995.  He served on the Board of Doorways for Women and Families and on the Facilities Committee of Western Presbyterian Church. He coached youth soccer, and on the PTA. All three of his daughters attend Arlington Public Schools.
As chair of the Planning Commission, and during his service on the Transportation Commission, Mr. Gutshall supported strong public engagement and thoughtful planning to ensure that private development contributes to residents' quality of life and that any potential negative impacts of development are mitigated.
During his time on the County Board, Gutshall served as Vice-Chair of the Metropolitan Washington Council of Government's (MWCOG) Metropolitan Washington Air Quality Committee (MWAQC).  He also served as a Director of the Virginia Association of Counties (VACo), and chaired their Economic Development and Planning Steering Committee.
Gutshall earned his Bachelor of Science in Political Science from James Madison University and his Master of Arts in Environmental Resource Policy from The George Washington University. He was a member of Leadership Arlington Class of 2009.