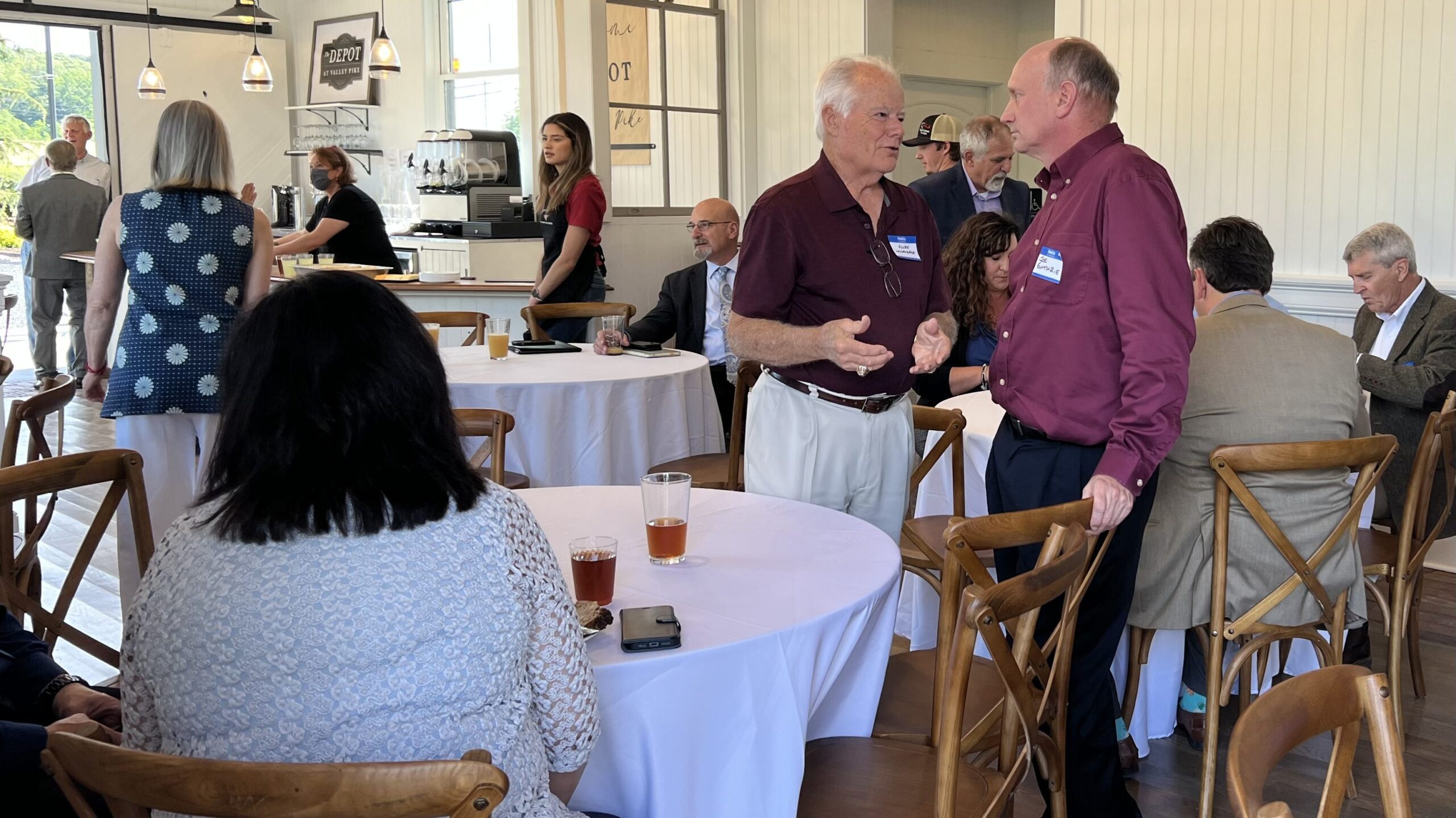 VACo's Regional Meetings moved to Augusta County on June 9 as members from Regions 6 & 9 gathered at the spectacular Valley Pike Farm Market Depot. The location was an old and abandoned train depot that once served Fort Defiance, a few miles down the road. The owners of Valley Pike Farm worked with Shenandoah Valley Railroad to move the depot to the Weyers Cave location.
The start of the meeting provided attendees an opportunity to network and share stories and challenges – mostly about agriculture and farming. Conversations filled the depot and the meeting was off to a productive start.
Virginia Department of Agriculture and Consumer Services Commissioner Joseph Guthrie was the keynote speaker. Commissioner Guthrie expressed his delight at the opportunity to speak about agriculture to an audience of local elected officials. Commissioner Guthrie is a sixth generation Virginia farmer and has served on the Pulaski County School Board (2011-2015) and Pulaski County Board of Supervisors (2015-2021). It was easy to see his love and passion for agriculture and local government as he spoke about both topics from the heart.
Here are some highlights from Commissioner Guthrie's presentation.
Governor Youngkin recently issued Executive Order 17, which includes a directive to address "food waste," which is a large component of landfills. There is the potential for federal funds (USDA) to implement food waste reduction.
Issues that VDACS is working on include:
Monitoring HPAI (Highly Pathogenic Avian Influenza) to ensure that it does not lead to breakout among commercial flocks of poultry (currently there has been only one case in Virginia infecting a small private flock).
Hemp – stay tuned for more information regarding a "budget amendment" pending final approval that institutes new rules regarding the sale of CBD products (containing .3% or less of THC), including a "21" or older requirement for retail purchase. The administration is also reviewing the impact of the budget amendment as it relates to "Delta 8" hemp products that are comparable in intoxicating effects to marijuana products.
Solar – per passage of HB 894, VDACS is working with VT Cooperative Extension to provide a new interactive mapping tool that overlays prime agricultural soils as it relates to potential utility-scale solar installations.
Continuing to monitor and address the infestation of the invasion species "Spotted Lantern Fly" and its impacts on fruit crops. It has already been found in the northern Shenandoah (Frederick County).
Dairy – labor shortages and the overall reduction in milking cows in Virginia has VDACS and the administration concerned about the loss of valuable dairy lands.
Mental Health – There is now a 24/7 hour hotline available specifically for farmers.
Farm transition – youth programs (FFA, 4H) and the Virginia Farm Link program (in partnership with VA Farm Bureau) seek to increase the pipeline of willing farmers to take over when a farmer retires.
Supply Chains – VDACS is critical in providing the infrastructure (testing, labs, etc.) to get Virginia farm and forest products to the market.
Commissioner Guthrie and Regions 6 & 9 members could have talked all night about farming and agriculture, but it was time to hear from counties in attendance.
Jail per diems was brought up a few times by counties. More specifically, counties said the state needs to keep to 60-day holding limit and reimburse local governments for the true cost of housing state-responsible inmates. Also, solar was discussed, especially the issue of smart land use and protecting arable farmland. Prisoner transport, broadband, staffing shortages, unfunded mandates, youth mental health was among other issues raised by regional counties.
VACo thanks Augusta County, Supervisor Jeff Slaven, the owners of Valley Pike Farm, the Virginia Cattlemen's Association and all our sponsors especially Pierce Group Benefits and The Berkley Group for making the Regions 6 & 9 Meeting a dynamic engagement.