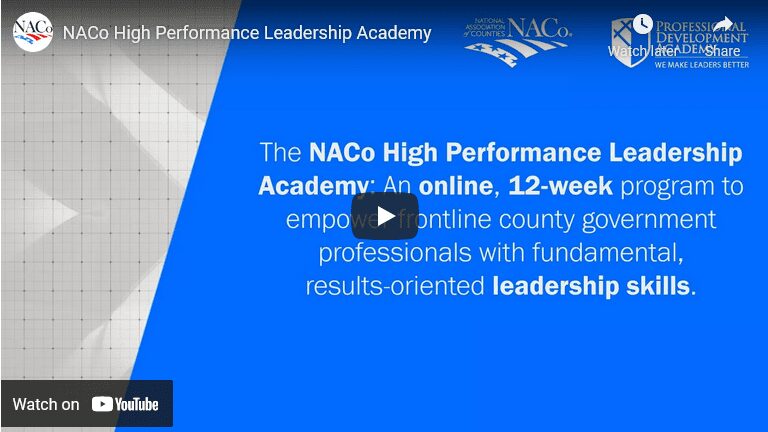 Forty-nine (49) Virginia county staff members participated in the NACo Leadership Academy, a 12-week online program that empowers front-line county government employees with fundamental leadership skills. Across the country, 812 county employees participated.
Virginia County staff to complete the Academy are:
Trevor Henry, Assistant County Executive, Albemarle County
David Puckett, Deputy Fire Chief, Albemarle County
Mary Stebbins, Social Services Deputy Director, Albemarle County
Angela Rice, Family Services Supervisor, Alleghany County
Bettie McCulley, Administrative Services Manager, Alleghany County
Dawn Riddle, Director, Alleghany County
Ricky Baldwin, Lieutenant, Bedford County
Stephen Anders, Sergeant, Bedford County
Sonny Daniels, Lieutenant, Bedford County
Alfreda Jarrett Reynolds, Economic Development, Brunswick County
Chandra Vaughan, Solid Waste Director, Brunswick County
Leslie Weddington, Assistant County Administrator, Brunswick County
Michael Blum, Systems Engineer, Campbell County
Jonathan Pingilley, Network & Systems Administrator, Campbell County
Tomeka Smith, Director of Finance, Caroline County
Laura Loveday, Comprehensive Planner-Development, Culpeper County
Heather Hostinsky, Office Manager-Building & Zoning, Essex County
Alexander Taylor, IT Specialist, Essex County
Sidney Johnson, Supervisor, Essex County
Gary Rzepecki, Parks and Recreation Director, Fauquier County
Kelly Belanger Harris, Assistant County Administrator, Fluvanna County
Brandy Rosser, General Services Director, Franklin County
Cora Gnegy, Tourism Marketing Director, Giles County
David Gottschamer, IT Department, Grayson County
James Frydl, Director of Planning & Zoning, Greene County
Mark Taylor, County Administrator, Greene County
James Howard, Social Services Director, Greene Coutny
Gary Cifers, Acting County Administrator, Greensville County
Meagan Doggett, Management Team-Commissioner of Revenue, Isle of Wright County
Jason Purse, Assistant County Administrator, James City County
Rebecca Vinroot, Social Services Director, James City County
Ryan Ashe, Chief, Fire Department, James City County
Stephanie Burton, Train/Development Coordinator, James County
Betty Dougherty, Social Services Director, King & Queen County
Betty Stevens, Accounts Administrator, Lancaster County
Mike Turner, Ashburn District Supervisor, Loudoun County
Lauren Eanes, Registrar, Madison County
Jason Frye, EMS Captain, Northampton County
Sheila DeYoung, EMS Division Chief, Northampton County
M. Terri Christman, EMS Division Chief, Northampton County
Bret Schardein, Deputy County Administrator, Powhatan County
Joshua Lee, Assistant Director-Area Agency on Aging, Prince William County
Anthony Toigo, Constituent and Legislative Affairs Officer, Stafford County
Kelly Moore, Director of Finance, Sussex County
Gage Harter, Director of Communications, Virginia Association of Counties
Jodi Saffelle, Human Resources Manager, Warren County
Mike Berry, Public Works Director, Warren County
Laura Taylor, Director of Business and Finance, Wise County
Pascal Baumeler, Chief of IT Infrastructure, York County
Congratulations to all of these individuals who completed the program. To learn more about the Academy, visit the NACo website here.