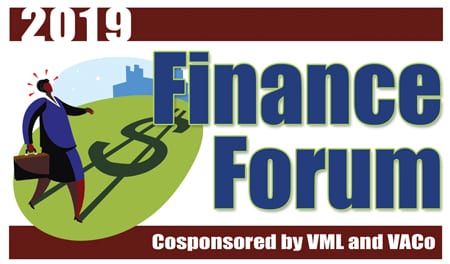 Tuesday, January 8, 2019 | 10am
Greater Richmond Convention Center | 403 N. Third Street | Richmond, VA 23219
Register | Agenda
The 2019 Finance Forum provides an excellent opportunity for local elected officials and staff to be brought up to date on key finance-related issues. Recommended attendees include members of county boards of supervisors, city and town councils, managers and administrators, budget and finance officers, legislative liaisons, and other interested local government staff.
Cancellations must be submitted in writing by December 30, 2018.
Please contact Joni Terry at 804.523.8529 or jterry@vml.org with questions.