August 6, 2014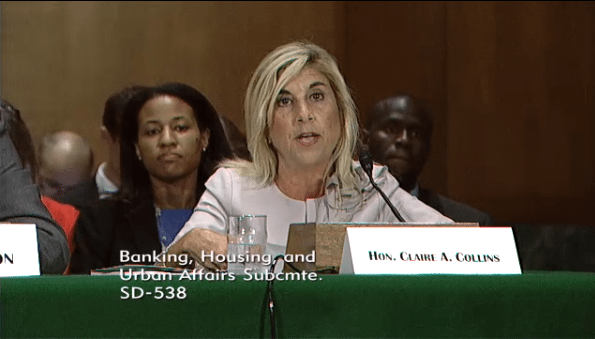 Bath County Supervisor Claire A. Collins testified on July 22 before the U.S. Senate Committee on Banking, Housing and Urban Affairs Subcommittee on Housing, Transportation and Community Development on "Building Economically Resilient Communities: Local and Regional Approaches." Collins' testimony focused on how counties, especially rural counties, have bolstered their ability to thrive amid ever-shifting physical, social and economic conditions and what more can be done at the federal level to support local economies.
On behalf of the National Association of Counties (NACo), Collins discussed the distinctive role of counties in economic resiliency, as stewards of their local communities and as integral parts of our nation's intergovernmental system. Supervisor Collins stated that Bath County, located in Virginia's Alleghany Mountains and with a population of 4,600, is focused on improving transportation systems, developing infrastructure, providing affordable housing opportunities and building and sustaining a skilled workforce that can help her community be globally competitive.  She noted that the county uses its convening powers to engage businesses as part of the Shenandoah Valley Partnership (SVP), which includes six neighboring counties. Through this regional partnership, the public and private sector work together to promote new investment, strengthen existing business and guide labor force development to ensure a healthy economic future for the region.
Supervisor Collins further testified that improving transportation systems, housing options and job opportunities is critical to enhancing local economic development and resiliency. Counties across the country are responsible for building and maintaining 45 percent of the public roads, 230,690 bridges and are involved in a third of the nation's transit and airport systems that connect residents, businesses and communities. In fact, counties spend $106 billion annually to build, maintain and operate roads, bridges, transit, water systems and other public facilities.
Supervisor Collins also stated that strengthening the federal-state-local partnership is critical to local economic resiliency. She highlighted the fact that state and local governments have increasingly borne the cost of infrastructure and public improvements and that it is important for the federal government to have policies, program tools and flexibility to assist rural communities and regions with cutting edge asset-based strategies and investments. She also noted that the U.S. Department of Housing and Urban Development's Community Development Block Grant (CDBG) program has assisted her county with affordable housing improvements to attract new residents and employees to Bath County. Bath and neighboring counties are also utilizing the CDBG program to plan for broadband expansion that will attract new business and development to the region, as well as to enhance existing businesses and residents.
Subcommittee Chairman Robert Menendez (D-N.J.) held the hearing to gain local perspectives on ways to build resilient communities by utilizing housing, transportation and environmental conditions. Chairman Menendez plans to reintroduce legislation, the Livable Communities Act, which provides federal funding to states and localities that work in partnership across regions to build more resilient communities. Currently, the U.S. Department of Housing and Urban Development, the U.S. Department of Transportation and the U.S. Environment Protection Agency have partnered and awarded funding to states and localities that are planning for and creating economically resilient communities through the Sustainable Communities Initiative. NACo is supportive of the federal initiative and also serves as a technical assistance partner for award grantees.
Transcript of Supervisor Collins's testimony
Webcast of Supervisor Collins's testimony
NACo Resources on Economic Resiliency 
Strong Economies, Resilient Counties: The Role of Counties in Economic Development
A Workforce that Works: County Innovations in Workforce Development
Planning Resilient Water Systems: Coastal Resiliency County Case Studies, Vol. 1
Sustainable Ports: Strategies for Port Development and Operations
Restoring Habitats for Resilient Coastal Economies
Strategies to Bolster Economic Resilience: County Leadership in Action
If you have questions or need assistance, contact Daria Daniel at ddaniel@naco.org or 202.942.4212. Stay up-to-date on current NACo issues and legislative priorities, visit www.naco.org and be a part of our social media network.