February 19, 2015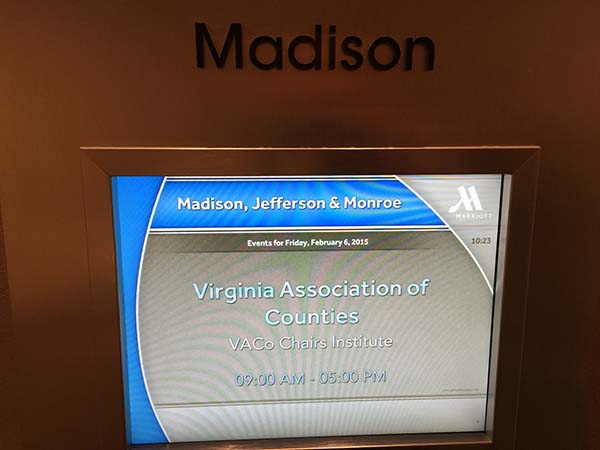 Seventeen county leaders completed the Chairs' Institute on February 6-7. The annual institute offers a professional learning experience that is carefully tailored to the needs of county board chairs and vice chairs.
Below is a list of those earning certification in 2015.
Rex W. Alphin | Isle of Wight County
James A. Borland |Campbell County
Ruby A. Brabo | King George County
Claire Anne Collins | Bath County
David L. Cox | Greene County
Delores C. Darden | Isle of Wight County
Barbara Jarrett Drummond | Brunswick County
Stephen A. Elswick | Chesterfield County
Karen Harless Hodock | Bland County
Bernard Lee Jones, Sr. | Brunswick County
David A. Karaffa | Augusta County
Steven E. Nixon | Culpeper County
Lizbeth A. Palmer | Albemarle County
Larry D. Saunders | Nelson County
Laura A. Sellers | Stafford County
Anne F. Seward | Isle of Wight County
Stephen L. Wilkerson | Bedford County
During these uncertain times, county leaders must be prepared for every eventuality. To succeed, board chairs and vice chairs must be active leaders who know how to encourage teamwork and manage conflict. They must be confident problem solvers as well as visionary leaders. To help county officials develop these skills, the Chairs' Institute featured seven sessions presented by some of the leading experts in the Commonwealth.
"The Chairs' Institute continues to be one of our most successful educational opportunities," VACo Executive Director Jim Campbell said. "This year's class was very eager to learn and engaged. Their willingness to improve as county officials through education shows why they are leaders in their counties."
VACo thanks everyone who participated in making the Chair's Institute a successful educational event.
VACo Contact: Phyllis Errico, CAE