April 2, 2015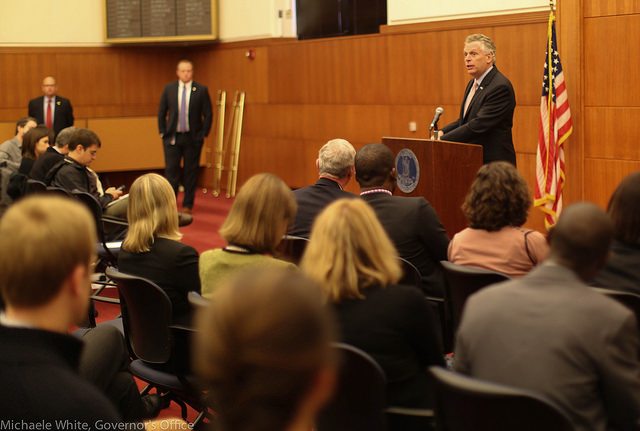 The General Assembly will return to Richmond on April 15 with 17 vetoes and amendments to over 50 pieces of legislation to consider. Unlike most reconvened sessions, there will be no further discussion of the budget as Governor McAuliffe's signed the FY2015-2016 budget bill on March 26 without amendment or line-item veto. The last time a Governor signed a budget produced by the General Assembly without an amendment or veto was in 1998.
The Governor praised money committee chairman Walter Stosch, Chuck Colgan and Chris Jones for their bipartisan cooperation. "As I have said, this session was marked by bipartisan cooperation on issues that are important to Virginia families," Governor McAuliffe said. "We passed a balanced budget that closed a revenue shortfall, protected core priorities like education, and invested in economic development, health care and school nutrition."
At a press conference on March 27, Governor McAuliffe announced his action on the 800 bills passed by the 2015 General Assembly.
"We took significant steps forward reforming our workforce development system, strengthening our transportation planning process, enhancing the resources we offer Virginia veterans, and building on our efforts to grow a 21st Century energy economy," he added. "My focus this session was on laying a foundation for a new Virginia economy, and I am proud to say that we did just that this year."
The Governor also revealed his vetoes to 17 bills that can be viewed by clicking here.
In addition to his vetoes, Governor McAuliffe proposed amendments to around 50 pieces of legislation in order to align them with his goals. Those amendments include 49 proposed changes to the ethics legislation that was passed in the final hours of the General Assembly session.
VACo will be working to protect county priorities, especially in the ethics reform overhaul, as the General Assembly considers the Governor's recommendations.
VACo will publish its 2015 Legislative Summary after the reconvened session, which will include further state budget analysis, analysis of legislation and a detailed review of modifications to the State and Local Conflict of Interests Act.
VACo Contact: Dean Lynch, CAE