June 17, 2014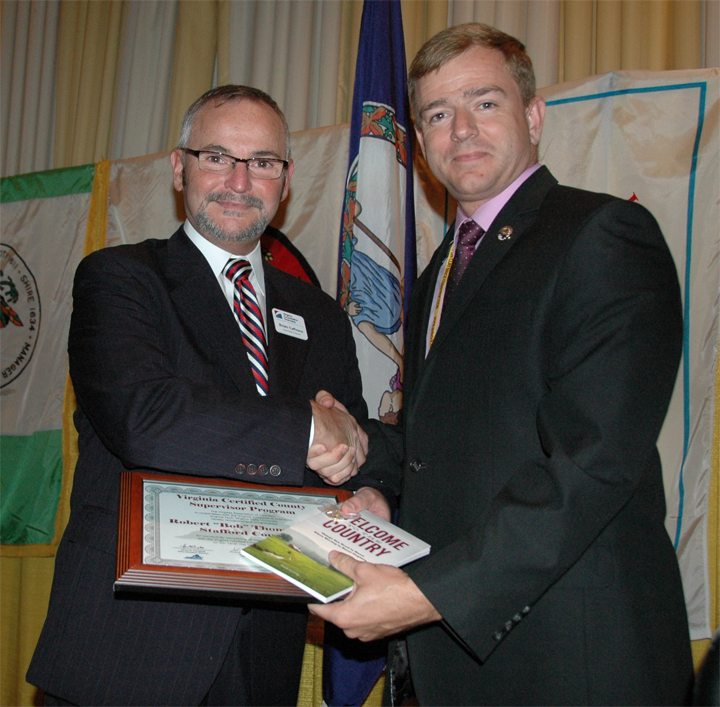 Robert "Bob" Thomas, Jr. was elected to the Stafford County Board of Supervisors representing the George Washington District in November 2011.
Prior to his election to the board, Bob served as the Chairman of the Stafford County Telecommunications Commission representing the Falmouth district. Bob served nearly eight years on active duty in the United States Marine Corps where he completed assignments in Norfolk, Quantico and Okinawa, Japan.
After his service, Bob worked for a large government contractor based in McLean, Virginia continuing to serve the Marine Corps as an information technology expert. In 2006, Bob co-founded Capriccio Software, Inc. and currently serves as the company's President and CEO. Bob earned his Associate's in Networking from Northern Virginia Community College and his Bachelor's in Computer Information Systems from Excelsior College.
Bob and his wife Christi have eight children.

County Connections: Please talk about how the Virginia Certified County Supervisors Program helps you perform your duties as a supervisor.
Bob Thomas '13: On a new Supervisor's first day in office, there isn't a manual you can read to understand the job ahead of you. If you're lucky, you might have a mentor who previously served or a County Administrator that you can lean on. A third tool I used was the VACo Certified County Supervisors Program, and it has been an invaluable resource for me as I serve my constituents and work with my fellow Supervisors to bring about positive change for our community. I have been able to apply many of the lessons from the classes and the discussions that took place. The course study on the foundation of what leadership is and isn't has really given me a great understanding of the role a Supervisor should play. I find it easier to manage conflict and foster good relationships with my colleagues as well as staff. The class on Land Use, which is one of the most important parts of our job, was excellent and I have often thought about the class as I am deliberating on land use cases. One of the greatest benefits in having completed the course is that I now have a network of Supervisors whom I can discuss difficult issues with in the strictest of confidence from various parts of the Commonwealth.
CC: You graduated with a large class – 12 total graduates. What were some benefits of graduating with so many peers?
BT '13: As we discussed each particular issue, having a large class provided an opportunity to hear a diverse set of opinions from all across the Commonwealth. I would encourage any Supervisor who is enrolling to try and recruit other Supervisors from their county to enroll also. In this environment, you will get to know your colleagues better on many levels and it will enhance your working relationship back home.
CC: The 2013 graduating class has a good mix of supervisors from rural and urban counties. Did the program do a good job of balancing discussion between rural and urban issues?
BT '13: The discussion was very balanced and I think all supervisors were able to pick up ideas and approaches from the other side of the scale. I know as a larger locality, I really came to appreciate the burdens the smaller localities have to tackle and I gained a great deal of respect for the rural Supervisors who stand up to tackle these issues for their constituents every day.
CC: Which course did you especially like and why?
BT '13: I really enjoyed the budgeting course as it was a great opportunity to see how other localities approach the process. In particular, the relationship we all share between the Board of Supervisors and the School Board seem to have a common theme across the localities. Discussing ways to better our relationships with our schools and try to take the pain out of the budgeting process for both boards was very useful. Taking the course also gave me an opportunity to dive deeper into our own county budget.
CC: What is the Thomas household like with eight children?
BT '13: We have seven girls and one boy in our family, and I am blessed to have a wonderful bride who just seems to make it all work. As you can imagine, a home with eight children never has a dull moment. Our youngest just turned one and our oldest is 15. Our older children seem to enjoy the political process and even helped Dad knock on doors during our campaign. They give up a great deal of family time to allow me to serve, but they understand the value of service to others and I hope my example will serve them well in the future.