January 7, 2014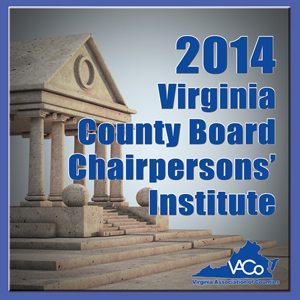 If so, VACo's Chairpersons' Institute is for you.
It will be held at the Richmond Marriott between February 6-8.
The Institute offers a professional learning experience that is carefully tailored to the needs of county board chairs.
These uncertain times require county leaders who are prepared for every eventuality, and balancing a tight budget is only the beginning. To succeed, board chairs must be active leaders who know how to encourage teamwork and manage conflict. They must be confident problem solvers as well as visionary leaders.
The Chairpersons' Institute was developed with the cooperation of an ad-hoc committee of board chairs. This Institute gives chairs a chance to learn practical strategies in critical areas including the duties, powers and responsibilities of board chairs.
This program provides details on the structure and functions of county government, active leadership, communications, meeting management, decision making, working strategically to achieve important goals, building partnerships with local staff, board colleagues, the media and other governments.
Click here for a registration form with hotel information.