March 23, 2015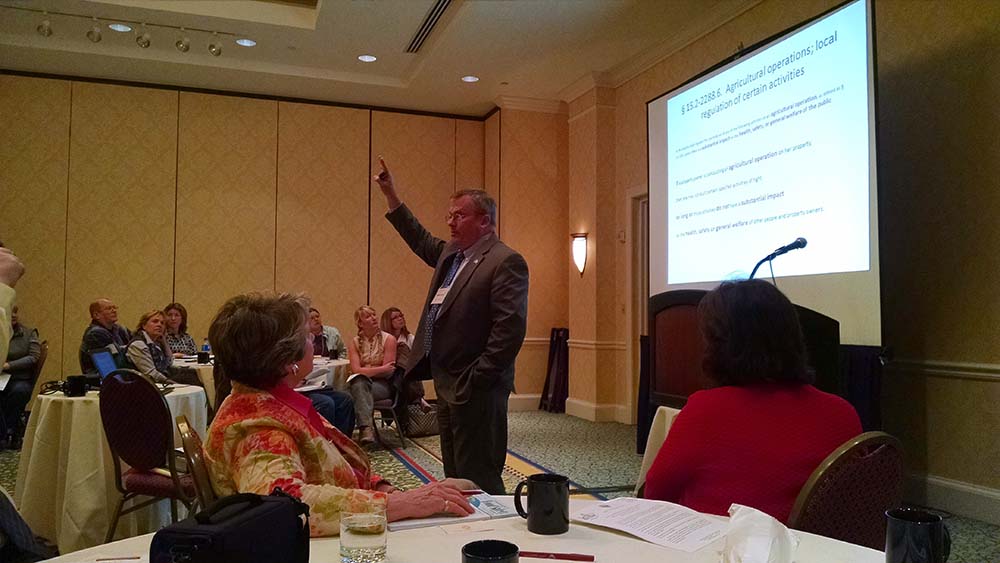 The Virginia Association of Counties co-sponsored the first of its kind Agritourism Conference at the Stonewall Jackson Hotel and Conference Center in Staunton on March 10-11.
The conference's organization was spearheaded by Dr. Martha Walker of the Virginia Cooperative Extension and included other co-sponsors – Central Shenandoah Planning District Commission, Farm Credit, Virginia Department of Agriculture and Consumer Services, Virginia FAIRS, Virginia Tourism Corporation and USDA Rural Development.
"Every conference session was bursting with engaging speakers and provided valuable tools for Virginia's agritourism industry," said Martha Walker, community viability specialist for Extension.
The two-day conference was attended by over 150 people and included a wide variety of attendees from farmers to tourism experts to economic development and government professionals. They came from the private sector as well as local, state and federal government. Attendees visited a number of farms and businesses like Meadowcroft Farm, Polyface Farm, Cestari Sheep & Wool Company, Mt. Crawford Creamery and White Oak Lavender Farm.
The agenda included sessions on event planning, marketing, regional networks, zoning and conservation, financing, legal structures, farm craft breweries, profitability outlook of wineries, bed and breakfast operations, food safety and experience-based tips to make agritourism businesses a success in the rural economy.
Distinguished guests included The Honorable Maurice Jones, Secretary of Commerce and Trade; The Honorable Todd Haymore, Secretary of Agriculture and Forestry; Mary Rae Carter, Special Advisor for Rural Partnerships, Dr. Ed Jones, Director of Virginia Cooperative Extension and Dr. Basil Gooden from the U.S. Department of Agriculture Rural development program.
On Tuesday afternoon, Shenandoah Valley's Fields of Gold sponsored farm tours open to all attendees. "We are delighted that our region was chosen to host the state's first agritousim conference and for us to showcase our award-winning agritourism program known as Fields of Gold," said Bonnie Riedesel, Executive Director of the Central Shenandoah Planning District Commission, in the Augusta Free Press.
The topics covered included a session on Land Conservation Easements featuring Andy Sorrell from the Virginia Department of Agriculture and Consumer Services and a spirited session on Zoning and Agritourism moderated by Former Delegate Matt Lohr of Farm Credit of Virginia and featured speakers Thomas Miller, Rockingham County Attorney and Diana Stultz, Rockingham County Zoning Administrator.
"This quality conference had a lot to offer many different stakeholders and VACo was proud to be a part of the event," said Phyllis Errico, VACo General Counsel.
VACo Contact: Phyllis Errico, CAE