October 1, 2013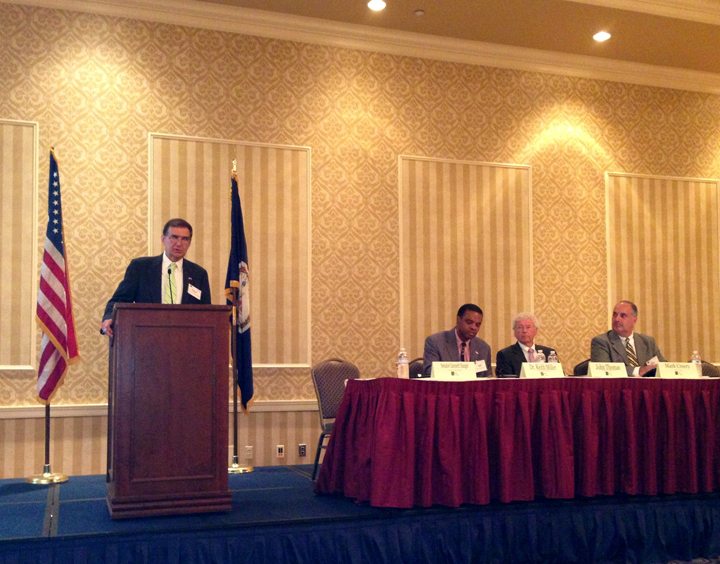 The Virginia Rural Center's 2013 Rural Summit and Caucus Convening brought together policymakers, rural leaders and subject matter experts from across Virginia to discuss challenges and opportunities for rural communities throughout the Commonwealth.
"The Next Generation Policies for Rural Capacity" two-day summit presented a robust agenda for attendees aimed to facilitate policy initiatives to further economic development in rural communities throughout the Commonwealth. Speakers and panelists focused on a wide array of issues as they relate to economic development, workforce development and education needs for capacity building in rural regions.
The Summit was moderated by Ward Stevens, Chairman of the Council for Rural Virginia and Vice President at VCOM. In closing the summit, Mr. Stevens provided a host of policy recommendations discussed throughout the two-day meeting for policymakers and attendees to consider.
The keynote address was delivered by Diane Duff, Executive Director of the Southern Governor's Association. Speakers included Attorney General Candidate Mark Obenshain who presented his campaign platform for rural Virginia; Dr. Bill Hazel, Secretary of Health and Human Resources presented current healthcare challenges; Lieutenant Governor Bill Bolling, who spearheaded Governor McDonnell's Rural Jobs Council initiative, discussed Virginia's future; and Bill Shelton, Director of the Virginia Department of Housing and Community Development presented on the agency's initiatives in rural Virginia to promote entrepreneurial and innovative economic development.
Panelists engaged attendees during the summit to spur discussion on a wide range of issues including rural capacity building, education and workforce priorities and policy positions and energy infrastructure initiatives to promote economic development.
The first panel, "How does rural impact statewide policy to build capacity" was moderated by Senator Emmett Hanger, Chairman of the Center for Rural Virginia with presentations by Dr. Keith Miller, President of Virginia State University, John Thomas, President of the UVA Weldon Cooper Center and Mark Creery, President of Data Directions.
The next panel focused on "Education and Workforce Priorities for Capacity Building", moderated by Bryan David of Region 2000 with presentations by Dale Moore, Founder of Virginia Technical Institute, Dr. Steve Staples, Executive Director of the Virginia Association of School Superintendents, Dr. John Downey, President of Blue Ridge Community College and Brett Vassey, President & CEO of the Virginia Manufacturers Association.
The third panel titled "2013 Policies for Building Capacity Education and Workforce Positions" was moderated by Robin Sullenberger, former CEO of the Shenandoah Valley Partnership with presentations by Senator Frank Ruff, Chairman of the Virginia General Assembly's Rural Caucus, Glen Sink, Center for Rural Virginia and Barry DuVal, President & CEO of the Virginia Chamber of Commerce, who provided an update on the Chamber's Blueprint Initiative.
The final panel focused on "Energy Policies and Initiatives to Promote Economic Development throughout Rural Virginia," moderated by Bill Murray, Managing Director of Public Policy & Senior Advisor at Dominion Resources with presentations by Greg White, President & CEO of Northern Neck Electric Cooperative, Ron Jefferson, Manager of External Affairs at Appalachian Power Company and Brent Archer, Director of Business Policy at Columbia Gas of Virginia.
New this year to the summit, in an effort to further policy development for rural regions, was a roundtable with members of the Rural Caucus of the Virginia General Assembly, moderated by Senator Frank Ruff. Caucus members discussed challenges and opportunities within their legislative districts and regions as well as potential legislative proposals to address economic and workforce development needs.
In addition to the many policy discussions, Chairman of the Council Award Committee and Council for Rural Virginia Board Member Basil Gooden, presented several awards at the Networking reception to honor those who have shown great commitment to promoting rural Virginia. Jim Campbell, VACo Executive Director, was honored with the "Friend of the Council Award", Senator Frank Ruff was honored with the "Council for Rural Virginia Award", Robin Sullenberger received the "Best Practices Award" and Glen Sink, retiring Executive Director of the Center for Rural Virginia received the "Lifetime Achievement Award."
The 2013 Rural Summit was a great success, facilitating discussions around real policy proposals to further education, workforce and economic development throughout rural Virginia. These discussions will continue as we approach the 2014 session of the Virginia General Assembly and work to foster entrepreneurial and innovative solutions to challenges throughout rural areas of the Commonwealth.
Please visit www.cfrv.org for more information on the Virginia Rural Center and more details on the 2013 Rural Summit.