2019 Regional Meetings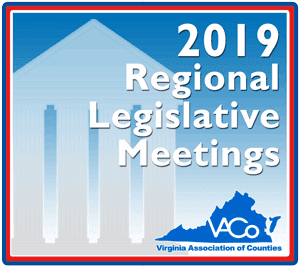 Regional Meetings are held annually to give local elected officials, county administrators and legislators an opportunity to discuss challenges and offer solutions. VACo plans to hold 9 Regional Meetings covering 12 Regions during the upcoming 2019 season. Discussions are always vibrant and productive. Regional Meetings help steer VACo in the development of its legislative program.
SPONSOR A 2019 REGIONAL MEETING OR THE ENTIRE SEASON
Click here if you are interested in sponsoring a Regional Meeting
We enjoy visiting our VACo Regions and hearing from our members each year. Here's a list of VACo Regions.
---
APRIL
Region 2 | Tuesday, April 23 | 7-9PM | York County | Agenda | Recap
Regions 1 & 4 | Tuesday, April 30 | 7-9PM | Nottoway County | Agenda | Recap

MAY
Regions 3 & 5 | Tuesday, May 21 | 7-9PM | Powhatan County | Agenda | Recap

JUNE
Region 6 | Monday, June 10 | 7-9PM | Warren County | Agenda | Recap
Region 7 | Thursday, June 13 | 6-8PM | Orange County | Agenda | Recap

AUGUST
Regions 10 & 11 | Thursday, August 29 | 6-8PM | Henry County | Agenda | Recap

SEPTEMBER
Regions 12-13 | Thursday, September 12 | 2-4PM | Washington County | Agenda | Recap
Region 9 | Thursday, September 19 | 6-8PM (Dinner at 530PM) | Augusta County | Agenda | Recap