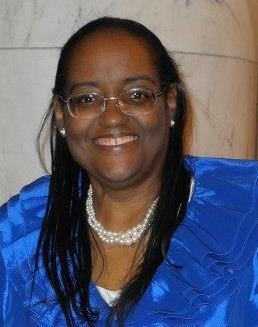 RICHMOND (November 15, 2017)—The membership of the Virginia Association of Counties elected King and Queen County Supervisor Sherrin C. Alsop as 2017-2018 President during VACo's 83rd Annual Conference in Bath County. Alsop and other newly elected officers started their terms at VACo's Annual Business Meeting on November 14.
Alsop succeeds Montgomery County Supervisor Mary W. Biggs and becomes the first-ever President from King and Queen County. She is the third President from VACo's Region 2 in the past 11 years.
"I am humbled and honored to be elected President and to have the opportunity to lead our association," Alsop said. "VACo brought many counties together under President Biggs, and I want to continue our outreach and education efforts throughout the Commonwealth. I live by Martin Luther King's quote, 'What are you doing for others?' That message will always be on my mind as I serve as VACo President."
Alsop has represented King and Queen County's Newtown District for 18 years. Her father, Raymond Alsop, served the same district from 1987-1999. Alsop is Chief Executive of the Alsop Group, a proposal development, copywriting, strategic consulting and training firm. She is an active member of VACo and has been on the Board of Directors since 2009.
Alsop is a 2005 graduate of the County Leadership Institute, a joint certification program of the National Association of Counties and New York University's Wagner Graduate School of Public Service. She is an active board and operations member of the King and Queen Volunteer Rescue Squad, where she is the Board Secretary, a certified emergency medical technician and a certified emergency vehicle operator. She also is certified as a CPR/First Aid/Blood-borne Pathogens instructor. Alsop is a gubernatorial appointee to the State Emergency Services Advisory Board and is a past chair of the Middle Peninsula Planning District Commission.
"Over the past few years VACo has made major strides in services it offers to members," Alsop said. "I want to work with VACo staff to continue this great work and see if new opportunities arise for education, advocacy and membership engagement. We will continue our tradition of advocacy, and I hope to get more members involved in the process."
Alsop holds a Bachelor's Degree in Government and Politics from the University of Maryland, an Executive Master's Degree in Government Contracting from George Washington University, a Master's Degree in Divinity from the American Bible University and a Doctorate Degree in Religious Studies from the American Bible University.
"Public service has been an Alsop family tradition in King and Queen County for 30 years," VACo Executive Director Dean Lynch said. "That speaks to Sherrin's level of service and commitment to her community. As VACo President, she'll bring her experience, creativity and sense of service. We look forward to a great year with Sherrin at the helm."
Watch Sherrin Alsop's Acceptance Speech
VACo 2017-18 Executive Committee
President: Sherrin C. Alsop | King and Queen County
President-Elect: Robert Thomas, Jr. | Stafford County
First Vice President: Stephen W. Bowen | Nottoway County
Second Vice President: Jeff C. McKay | Fairfax County
Secretary-Treasurer: Donald L. Hart, Jr. | Accomack County
Immediate Past-President: Mary W. Biggs | Montgomery County
In addition to the VACo Executive Committee and Past Presidents, the Board of Directors consists of 24 supervisors representing 13 regions of the state and a NACo South Region Representative. The terms are on a two-year cycle and the number of directors, per region, is based on the population.
This year, representatives were selected in regions 2, 3, 4, 7, 8, 9, 10, 13
(Click here for a regional map)
VACo 2017-18 new board members include:
Region 2: Jason D. Bellows | Lancaster County
Region 3: Wayne T. Hazzard | Hanover County
Region 3: James M. Holland | Chesterfield County
Region 4: Daniel D. Lee | Dinwiddie County
Region 7: Meg Bohmke | Stafford County
Region 7: Paul D. Trampe | Spotsylvania County
Region 8: Maureen S. Caddigan | Prince William County
Region 8: John D. Jenkins | Prince William County
Region 8: Linda Q. Smyth | Fairfax County
Region 9: William B. Kyger, Jr. | Rockingham County
Region 10: Sam E. Carter | Appomattox County
Region 13: Larry R. Mosley | Lee County
Past Presidents: Judy S. Lyttle | Surry County; Penelope A. Gross | Fairfax County; Harrison A. Moody | Dinwiddie County