June 17, 2014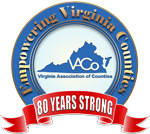 The Omni Homestead Resort room reservation form was mailed Monday, June 16, to the VACo Board of Directors, county administrators and confirmed exhibitors. Room reservations are to be made by fax or mail only. The Homestead has requested no phone calls, please. Online reservations will not be accepted, as The Homestead has blocked out the conference dates in their online system.
Should you have any questions, or need a copy of the reservation form, please contact Carol Cameron by e-mail at ccameron@vaco.org. To review VACo's lodging guidelines adopted by the Board of Directors, please CLICK HERE.
If you plan to attend the annual conference, but wish to stay at a different location, CLICK HERE to see our list of alternative lodging options available near The Homestead. VACo does not have any agreements or arrangements with any of the listed establishments. Know that if you do not stay at The Homestead, no meals are included in your conference registration. Guests staying elsewhere may purchase a banquet ticket for $75.
Registration forms for VACo's 2014 annual conference will be mailed on August 15. If you are new to the room registration and conference registration process, the room reservations at The Homestead are separate from registering for the conference. Receiving your room reservation does not mean that you are automatically registered for the conference. Once sent to all VACo Board of Director members and county administrators, you must submit a conference registration form directly to VACo by mail, fax or online to be registered.