October 2, 2014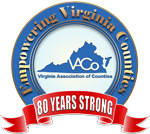 If you are attending VACo's Annual Conference here are a few helpful suggestions to make your time at The Omni Homestead run smoothly.
UPON ARRIVAL
Check-in time for you room is 4 p.m., and most rooms will be ready at this time. Valet parking is included in the 15 percent daily charge that is automatically added to your room rate. When you arrive, please remember that bellmen and doormen work for tips and are not compensated through any service fees collected by the hotel. These individuals should be rewarded at the guest's discretion for their superior service.
The doormen will give each guest a Valet Parking ticket for the car, or you may park in the complimentary parking lots at the top of the hill.
The doormen will give each guest a luggage ticket that you should take to the front desk where you will check-in.
You will need a credit card, a photo ID and your luggage claim ticket.
If your room is ready, you will receive your room keys and hotel ID cards and the bellman will deliver your luggage to your room.
If your room is not ready, you will receive a temporary ID card for charging purposes. Luggage will be stored until your room is ready.
Please provide a cell phone number if you would like to be called when your room is available.
Luggage delivery will take approximately 20 minutes, but can vary depending on the flow of guests arriving around the same time.
DINING
The Omni Homestead is home to five restaurants, a market, a bar and also offers  in-room dining.
The different restaurants are open at varying times and have a variety of dress codes. Be sure to visit the Dining Overview page for more information before your arrival.
Dinner reservations are required and may be made when your room is reserved. Dinner is available in the Main Dining Room, Jefferson's Restaurant, Sam Snead's Tavern and the Casino Restaurant. You must provide the names of all individuals in your party. In addition, a credit card is needed for reservations of more than eight people. Please do not double book reservations, so that others may have the opportunity to make arrangements.
VACo's SUNDAY BANQUET
All conference attendees staying at The Omni Homestead may attend the Sunday banquet at no additional cost. So that we may provide an accurate headcount for the dinner, please indicate on your registration whether you will be attending the banquet or not. Banquet tickets are available for purchase by those who are staying off-site for $75 per person. Banquet tickets will be collected and tracked to each attendee. Unaccounted for tickets will be billed for their banquet meal.
DAY OF DEPARTURE
Checkout time is before noon. Express checkout is available, and you may settle your room account by using your credit card.
1. To order your car for departure
• Call the Transportation Department directly at Ext. 57711.
• Allow 15 minutes for your car to be delivered at the front drive. Please keep in mind that peak departure is between 11 a.m. and 1 p.m., and you may experience a wait of up to 30 minutes.
• As a reminder, we are unable to leave cars unattended in front of the resort, due to the flow of arrivals and departures. Please call for your car when you are ready to depart.
2. Luggage pick up
• Please call the bellman directly by pressing the "Bellman Button" on your guest room phone, or dialing Ext. #57571.
• Place luggage inside your guest room by the door for the bellman.
• Your luggage may be retrieved on the front porch.
• Please speak to a doorman for assistance with departure, and notify them if you have golf clubs to load.
3. Checkout
• You will receive a copy of your charges under your door the last night of your stay.
• You may checkout via the television by going to guest services.
• You may leave your Express Checkout card (located in your key packet) at the Front Desk in the Express Checkout Box (keys may be dropped in the box).
• You may check out directly with the front desk. Please keep in mind that peak departure is between 11 a.m. and 1 p.m., and you may experience an extended wait time.
BILL SPLITTING
Separate billing for room, the Daily Resort Charge, the Modified American Plan (MAP) and related taxes will be provided for each conference attendee staying at The Omni Homestead. Expenses for spouse, guests and children, as well as incidentals will be provided on a separate bill. For more information about bill splitting, please request assistance from the front desk during check-in.
VACo Contact: Amy Elizabeth Vealey