September 18, 2014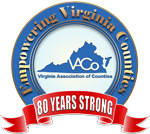 We have less than two months until VACo's 80th Annual Conference, and the VACo team is working to finalize their breakout sessions by the end of September. As we approach the beginning of the annual conference, get session information and previews in upcoming issues of County Connections.
We would like to thank our sponsors for their support of the annual conference. Sponsorships provide more events, services and goods during the conference while helping to maintain registration fees.
Sponsorships provide services that can be enjoyed on-site, such as meals and refreshment breaks, as well as receptions and conveniences where attendees can meet other county officials and share ideas. They also provide goods that can be used both during and after the conference. Below is a list of the sponsorships for the 80th Annual Conference.
Sunday Evening Opening Reception
Dominion Resources
Monday Deli Luncheon
SunTrust Bank
President's Reception
Robinson, Farmer, Cox Associates
Sunday Banquet Wine Sponsorship
Sands Anderson, P.C.
Sunday Afternoon Football & Refreshments
Triad Technology Partners, LLC
Monday Afternoon Break
TBA
Conference Tote Bags
Moseley Architects
Nametag Lanyards With Your Company Logo
AETNA
Hotel Key Cards With Your Company Logo
TBA
Sunday Afternoon Break
TBA
Monday Morning Break
Virginia Economic Development Partnership
Tuesday Morning Break
Nationwide Retirement Solutions
Cyber Lounge Charging Station
TBA
WiFi Access in the Exhibit Hall
National Rural Telecommunications Cooperative
This year VACo has added two new sponsorships. As we continue to get evaluation feedback and improve the conference, we will strive to provide an annual conference that is the premier VACo educational event of the year.
Registration forms are steadily coming into the office. For more information on the conference and how to register, click HERE. We look forward to seeing you in November!
VACo Contact: Amy Elizabeth Vealey