September 4, 2014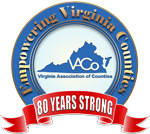 VACo has created the 2014 80th Annual Conference hashtag! Submit your pre-conference excitements, in-conference experiences and post-conference pictures by tagging Twitter posts, or "tweets" with #VACo80. If you do not have a Twitter account, you can still contribute to the conference coverage by including #VACo80 in your Facebook posts or Instagram pictures.
When a Twitter tweet or Facebook and Instagram posts contain the same hashtag, they are grouped on Twitter. Grouped tweets and posts allow participants to follow an event in real time. At the annual conference, you can see what others are saying about the meeting or workshops they are attending.
You can get started on Twitter and Instagram by choosing a handle, or name that will be easily identifiable to others. A variation of your name is best. For example, VACo's twitter account is "VACounties." Facebook names are typically your name and not a handle. Much like Facebook "friends," Twitter has "tweeters" who can connect to you by following you and see your tweets, or tweets in which you are tagged. You can also connect to other tweeters by including their name in your tweet. Tweets can also include links. Instagram is primarily a photo-sharing social network system that does allow some typing. Instagram picture posts can be followed by a message that include a hashtag and be posted to Twitter.
Much like text messaging, but unlike Facebook, tweets are limited to 140 characters, so there is a special Twitter language to reduce space. Once you start, it is easily picked up. The special language saves room and limits reader confusion while also getting the message across.
Social media can be useful for county officials because it enhances your connection to those in your community, state and federal governments.
You can tweet or post to announce county meetings, Board information and community events. During the annual conference, social media allows people to follow the event as it occurs. Since Twitter groups posts and tweets with hashtags all three forms are represented, and everyone can participate!
VACo Contact: Amy Elizabeth Vealey