August 6, 2014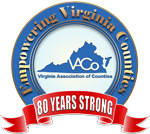 VACo members, be on the lookout for the Annual Conference Registration Form, which will be released on Friday, August 15. This year's 80th Annual Conference features the theme "Empowering Virginia Counties ~ 80 Years Strong."
The registration form will be e-mailed to the VACo Board of Directors, county administrators and confirmed exhibitors. If you do not receive a copy of the registration form, please contact Carol Cameron at ccameron@vaco.org.
We're excited to announce that the general and breakout sessions are taking shape.
• Governor Terry McAuliffe as well as state legislators and cabinet members have been invited to speak.
• U.S. Senator Mark Warner and U.S. Senator Tim Kaine have been invited to speak. Warner has offered to write a congratulatory note to VACo for 80 years of service to be placed in the conference program.
• Officer Jason McNamara has confirmed that the Roanoke Color Guard will perform the Presentation of Colors at the Monday morning general session. They were really awesome last year. You can watch their presentation here.
• Matt Chase, NACo Executive Director, has agreed to speak at that general session.
• Riki Hokama, NACo President, has been invited to join Chase.
• Dr. Bob Holsworth of Virginia Tomorrow has agreed to provide political commentary at the Tuesday general session.
We're also putting together other items of interest to make your annual conference experience better.
• Sunday morning nondenominational worship service
• Group 20-minute Walk and Talk on Monday
• Free book bin
The VACo Team recently met to discuss the Annual Conference Committee's breakout session requests and re putting together some exciting sessions. Stay tuned to County Connections for more information on the Annual Conference.
Again, we will release the registration form on Friday, August 15. We hope you can join us in Bath County.
VACo Annual Conference Contact: Amy Elizabeth Vealey