July 15, 2014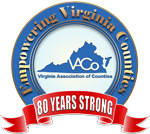 On July 8, the VACo team met to discuss the Conference Planning Committee's suggestions made during their meeting held in mid-May. After much discussion on the topics suggested by the Conference Planning Committee and those that we feel most directly affect the majority of Virginia's counties, the VACo team divided topics and are in the planning stages.
Following the 16 breakout session format requested by the Conference Planning Committee, VACo is working to have repeat sessions of topics. This will provide attendees with more flexibility when choosing which sessions to attend. As for general sessions, the Roanoke Color Guard will return to start Monday's Opening General Session, and Bob Holsworth has agreed to speak during the Tuesday morning General Session. Veteran's Day is Tuesday morning and VACo is putting together a commemorative slide show honoring our nation's veterans.
Be on the lookout on August 15 for the VACo Conference Registration Form. It will be sent by e-mail to the VACo Board of Directors, county administrators and confirmed exhibitors. If you did not receive a copy of the registration form or wish to have a copy mailed to you, please contact Carol Cameron at ccameron@vaco.org.
We would like to thank all of our sponsors for their support. Sponsorships provide attendees with additional conference benefits and better quality services at a reduced registration cost. They also provide the sponsor with an excellent opportunity to advertise and come in direct contact with county decision makers. Several sponsorships are still available. If your organization has yet to take advantage of one or more of the benefit levels, please see the 2014 Sponsorship Form. As the VACo team continues to organize the conference, the options listed will increase. Check back often for an updated list of available sponsorship levels.
VACo Annual Conference Contact: Amy Elizabeth Vealey