July 2, 2014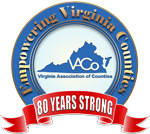 VACo staff is working to provide conference attendees with a list of breakout session topics and exceptional moderators and speakers. If you have suggestions for topics that you feel would be a benefit for Virginia's counties, please send your ideas to Amy Elizabeth Vealey by email at avealey@vaco.org.
This year's conference tote bags boast a special GREEN feature. They are made entirely of recycled plastic bottles! When used, these bags reduce the size of our landfills not only by recycling plastic bottles, but they also save a plastic or paper bag from being used!
The confirmed exhibitor list is growing fast, and very few booths are available! If your company would like to exhibit, reserve your booth today by CLICKING HERE. In order to receive a room reservation form, you must have submitted a 2014 exhibitor application, along with a minimum deposit of $350. Pre-registered attendee lists are available only to exhibitors who have paid their booth space fees in full by October 16. For more information about exhibiting at VACo's Annual Conference, CLICK HERE.
As a reminder, on Monday, June 16, The Omni Homestead room reservation form was mailed to the VACo Board of Directors, county administrators and confirmed exhibitors. If you would like a copy of the reservation form, please contact Carol Cameron at ccameron@vaco.org. Completed reservation forms are to be mailed or faxed directly to The Homestead. If you would like to attend the conference, but stay somewhere other than The Homestead, CLICK HERE to see our Alternative Lodging list. VACo does not have any agreements with these establishments. If you do not stay at The Homestead, know that no meals are included in your conference registration fee. Guests staying elsewhere may purchase a banquet ticket for $75, if they plan to attend.
The conference registration form will be mailed on Friday, August 15. These forms are separate from the room reservation form and sent directly to VACo. Receiving a room reservation confirmation does not automatically register you for the conference. Make sure to reserve your room now, and then be on the lookout for the registration form on August 15!