November 18, 2014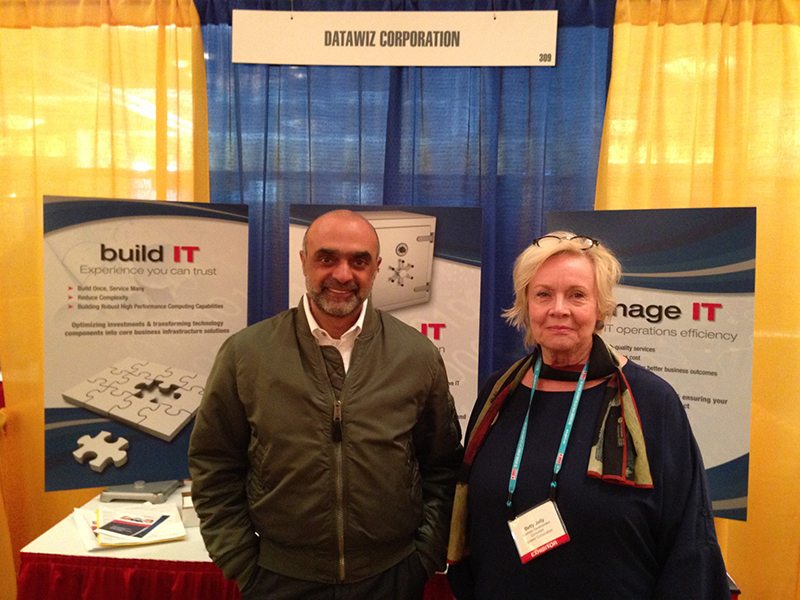 Datawiz is this year's winner of the free exhibit booth for 2015. Pictured are Waseem Haider, president, and Betty Jolly. Congratulations to Datawiz!
The exhibit hall was a great success again this year, and it was completely sold out. Thank you to all county board members and staff who took the time to walk through the exhibit hall. The companies and organizations that participate in our conference are uniquely qualified to address the needs of local government and have the expertise and experience you seek. If you saw a booth that interested you but didn't get the name or contact person, e-mail Carol Cameron at ccameron@vaco.org, and she'll help you track it down.
The winner of the drawing for a free exhibit booth in 2015 is Datawiz Corporation. Congratulations!
Thanks again to all of our sponsors, without whom our conference would not be possible:
PLATINUM
Sunday Evening Opening Reception
Dominion Resources
PLATINUM
Monday Deli Luncheon
SunTrust Bank
PLATINUM
President's Reception
Robinson, Farmer, Cox Associates
PLATINUM
Sunday Banquet Wine Sponsorship [two bottles white, two bottles red at each banquet table]
Sands Anderson, P. C.
GOLD
Sunday afternoon football & refreshments
Triad Technology Partners, LLC
GOLD
Conference Tote Bags
Moseley Architects
GOLD
Nametag lanyards
Aetna
SILVER
Monday morning break
Virginia Economic Development Partnership
SILVER
Tuesday morning break
Nationwide Retirement Solutions
SILVER
Cyber Lounge Charging Station
All Points Broadband
Additional Sponsorship Provided By    
Wi-Fi Access in the Exhibit Hall
NRTC (National Rural Telecommunications Cooperative)