May 19, 2015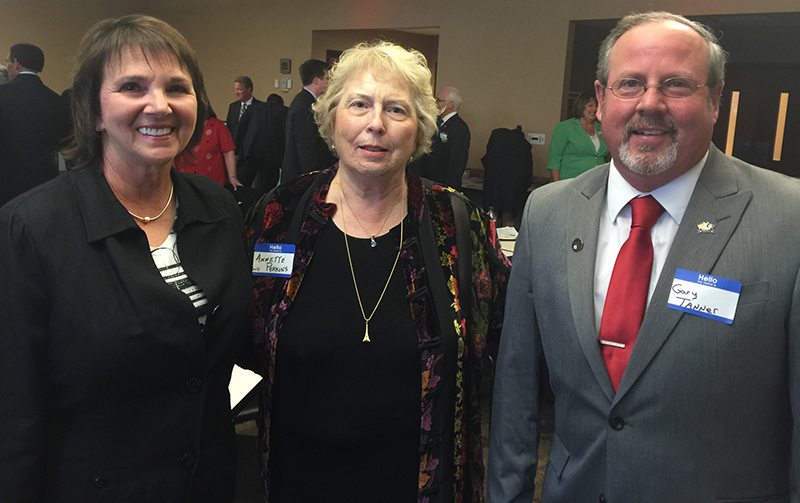 Our leaders for the Region 10 & 11 Meeting. Left to right – Roanoke County Supervisor Charlotte Moore (Region 11 Director), Montgomery County Supervisor Annette Perkins (Region 10 Director) and Appomattox County Supervisor Gary Tanner (Region 10 Director).
County, regional and state leaders from VACo Regions 10 and 11 convened on May 18 in Franklin County to share and discuss issues affecting their localities. Leaders from six counties, staff from four planning district commission and four state legislators along with staff representing state and federal legislators discussed multiple policy issues including broadband, economic development, transportation and county tax rates.
County members also brought up concern over additional proposed mandates on counties through regulatory changes of the Comprehensive Services Act and mental health funding, among other topics.
The meeting was planned and led by VACo Region 11 Director Charlotte Moore, Supervisor in Roanoke County and VACo Region 10 Directors Annette Perkins, Supervisor in Montgomery County and Gary Tanner, Supervisor in Appomattox County.
Senators Ralph Smith and Bill Stanley along with Delegates Charles Poindexter and Terry Austin provided updates on their recent efforts in the General Assembly and insights on future legislative efforts. Representatives from the office of Delegate Les Adams, Senator Mark Warner and Congressman Morgan Griffith also attended.
Delegate Poindexter thanked VACo membership for their strong efforts to communicate the impacts of state policy on counties and their citizens, especially in his work as a subcommittee chairman of the House Appropriations Subcommittee, House Counties, Cities and Towns Subcommittee and House Agriculture, Chesapeake and Natural Resources Committee.
Delegate Austin and Senator Stanley focused their remarks on their strong support of economic development efforts and regional efforts to secure funding to build Interstate 73. Senator Ralph Smith, who serves as Senate Local Government Committee Chairman, focused his remarks on the importance of protecting citizens from unfunded mandates and additional tax burdens.
The attendees received an update on the status of broadband deployment in their region and the Commonwealth from Sandie Terry, Broadband Program Manager for the Center for Innovative Technology. They also heard from Sarah Capps from the Tobacco Commission about the recent legislative changes to Commission and the programs available to counties in the region.
Gary Christie, Executive Director for the Local Government Council of Region 2000 provided information on regional challenges regarding transportation and county tax rates on behalf of his organization, the Roanoke Valley-Alleghany Regional Commission, West Piedmont Planning District Commission and the New River Valley Regional Commission.
VACo Contacts: Larry Land, CAE or Erik Johnston, CAE