The Voice of the
Commonwealth's Counties
Regions 9 and 11 Meet to Share Priority Issues
Counties in VACo Regions 9 and 11 held a virtual meeting on May 25 to share priority issues, discuss potential opportunities in the upcoming special session, and receive a briefing on economic competitiveness in the region.  VACo extends its appreciation to Senator Emmett Hanger, Delegate Tony Wilt, Delegate Ronnie Campbell, and Delegate Chris Runion for their participation in the event.  The legislators reflected on the 2021 General Assembly and provided a preview of the expected special session this summer.  Senator Hanger pointed out that the state budget is in a far better posture than expected last spring, allowing legislators to restore some spending items that had been unallotted, or frozen, last April, and enabling additional deposits to the state's reserves.  Senator Hanger also discussed the importance of counties communicating their wishes as the state makes decisions about use of the federal funding from the American Rescue Plan Act; he noted that focusing on one-time expenditures, such as wastewater improvements, would be preferable, a view that Delegate Wilt echoed in cautioning against overreliance on federal support in developing future state budgets.  A question regarding the proliferation of large-scale solar installations generated a robust discussion among the legislators, with Delegate Campbell suggesting that he was concerned about government picking winners and losers among energy sources and Delegate Runion pointing out the importance of preserving agricultural land.
Attendees held a roundtable discussion regarding top issues in each county.  School funding for staffing as well as capital needs and the importance of broadband for economic development were highlighted by several participants.  Several county representatives also spoke to the need for more realistic reimbursement for the costs of housing state-responsible inmates in local and regional jails, as well as the need for state support for Constitutional offices that is a more accurate reflection of staffing needs in these offices.  Transportation needs and the importance of preserving local land use authority were also areas of interest among participants.
VACo was pleased to be joined by representatives from the Virgina Economic Development Partnership, who provided an overview of the Local and Regional Competitiveness Initiative.  Adam Watkins, Manager, and Emily Fay, Senior Analyst, explained that this project began in 2020 with a self-assessment, which was used to develop benchmarked results documenting regional strengths and potential opportunities to enhance competitiveness.  Strengths identified in Regions 9 and 11 included entrepreneurship and infrastructure, and opportunities included attracting new businesses as well as finding ways to retain existing businesses and to help these businesses expand.
VACo is grateful to our members, legislators, sponsors, and VEDP guests for a productive and informative meeting.  Regional meetings assist VACo staff by informing our steering committee discussions and advocacy efforts.
VACo Contact:  Katie Boyle
---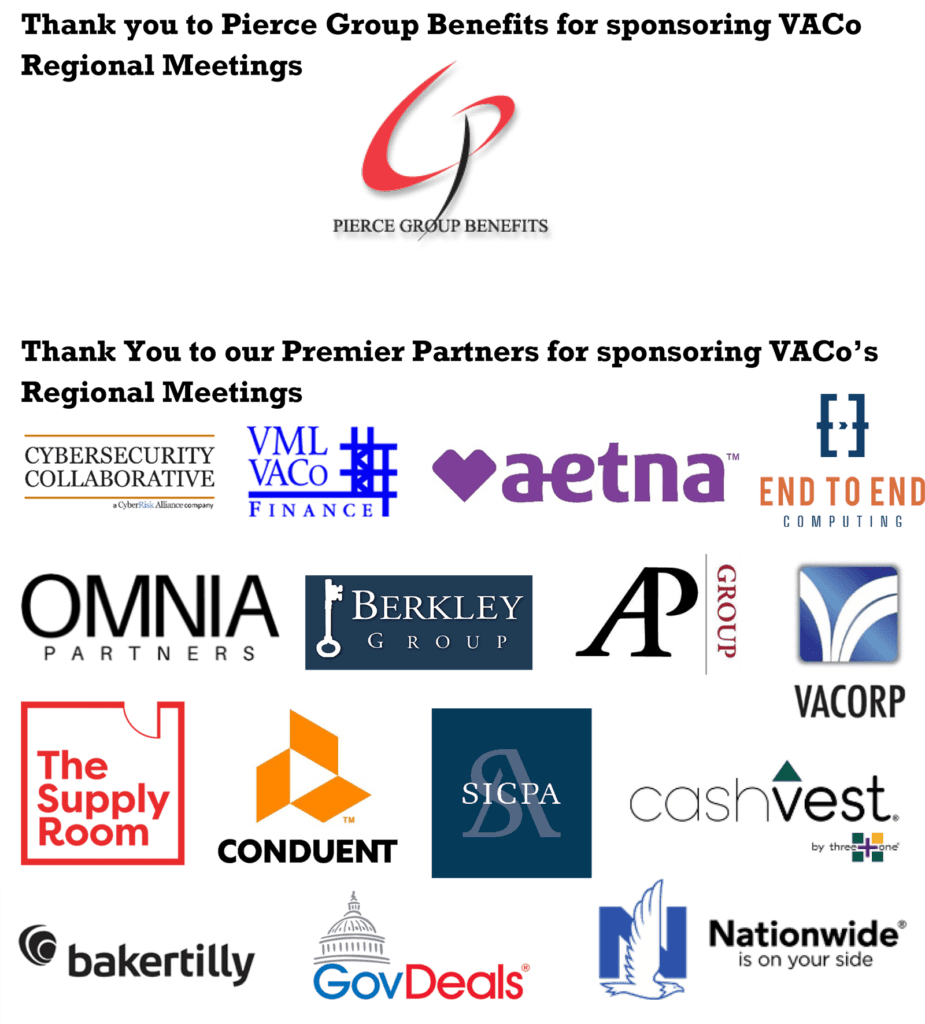 Website Created By