The Voice of the
Commonwealth's Counties

Regions 4 and 10 Kick Off 2021 Regional Meeting Season
Counties in VACo Regions 4 and 10 opened the 2021 series of regional meetings with a robust discussion of successes, challenges, and opportunities.  VACo is grateful to Senator Frank Ruff for participating in the meeting and sharing his reflections on the 2021 General Assembly and his predictions for a planned special session later this summer.  Senator Ruff discussed his concerns about pressures on local budgets and thoughts about potential uses for the federal funds that Virginia will receive through the American Rescue Plan Act, such as certain capital infrastructure projects.
As the United States Treasury had released its Interim Final Rule with guidance on uses of the Coronavirus State and Local Fiscal Recovery Funds in the American Rescue Plan Act the day before the meeting, planned uses of the funds and the process for making decisions about the funding were timely topics of conversation.  Attendees discussed their plans for weighing potential uses for the funds, to include the use of internal committees to vet ideas, and their initial ideas for uses of the funds to meet local needs, including emergency medical services needs and broadband access.
Evan Feinman, Governor Northam's Chief Broadband Advisor, provided an update on recent infusions of state funding into the Virginia Telecommunication Initiative and his office's ability to offer technical support to local governments with broadband projects.  He also discussed the additional federal funding for broadband in the American Rescue Plan Act; in addition to the state's Fiscal Recovery Funds, a separate funding allocation for capital projects is expected to provide an estimated $220 million to Virginia that can be used for broadband projects.  Mr. Feinman encouraged counties that may want to use their local Fiscal Recovery Funds for broadband projects to coordinate with the state, as there may be opportunities to work in partnership to maximize these dollars.  Further details about the state's plans for these federal funds will be forthcoming.
Attendees concluded the meeting by participating in a roundtable discussion about top issues in each county.  The need for broadband access and economic development were common themes; among other issues, participants also cited school capital improvements, transportation, and the Children's Services Act as areas of priority interest.  Several county representatives discussed taxation and land use-related issues surrounding the installation of large-scale solar projects.
VACo appreciates the participation of members, legislators, special guest speakers, and sponsors in the meeting.
VACo Contact:  Katie Boyle
---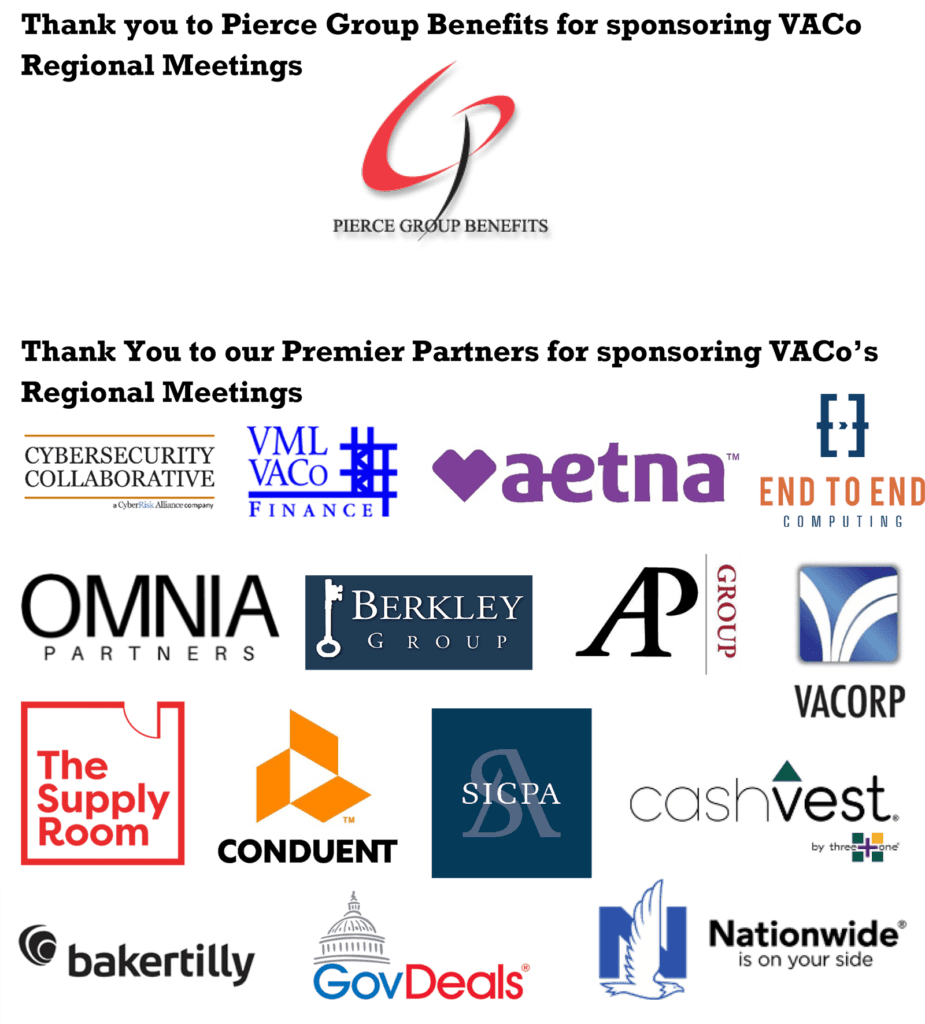 Website Created By