The Voice of the
Commonwealth's Counties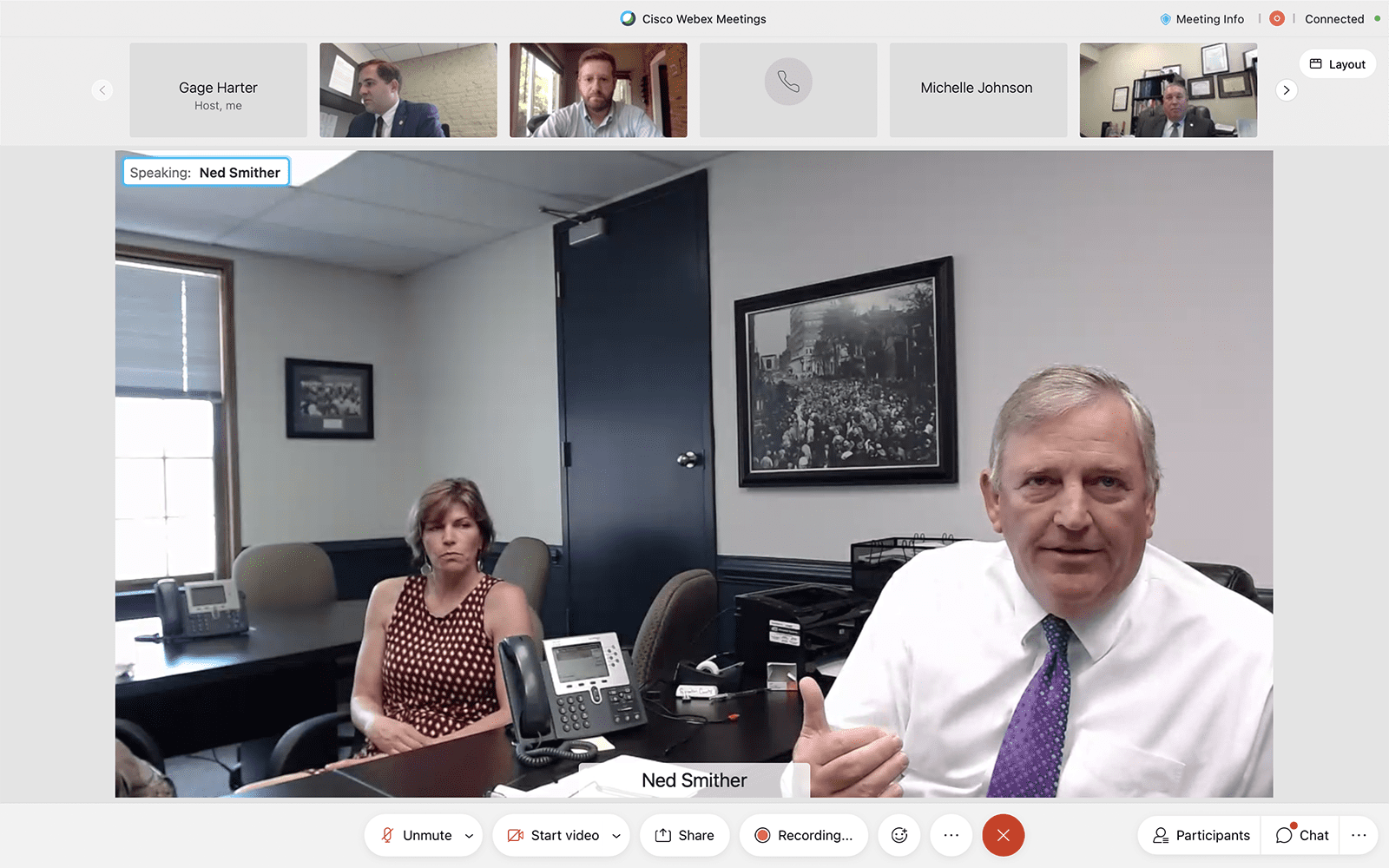 Counties in Regions 3 and 5 Meet June 8; Broadband and Transportation Top Issues
Counties in Regions 3 and 5 met virtually on June 8 for a discussion of county priorities and key areas of interest, with conversation largely focused on opportunities to enhance broadband coverage and new approaches to meeting transportation needs in the region. In addition to briefings from Chief Broadband Advisor Evan Feinman and Deputy Secretary of Transportation John Lawson, VACo was pleased to be joined by Senator Ghazala Hashmi, Delegate Lee Ware, Delegate Carrie Coyner, and Delegate Rodney Willett.
Mr. Feinman emphasized that achieving universal broadband access remains a priority for the Administration, noting that the expected influx of resources from the American Rescue Plan Act will expedite achievement of this goal. He encouraged localities to "think big" in planning broadband projects that will make use of these federal funds, and advised attendees to plan projects that achieve universal coverage (rather than projects that "cherry pick" more densely populated areas, making it less economically viable to serve the remaining areas). He reminded attendees that the state's staff are available to provide technical assistance and strongly encouraged counties to take advantage of this resource. Several counties shared updates on successful projects and planned expansions for future coverage.
Deputy Secretary Lawson provided an update on the status of transportation funding, noting the passage of significant transportation legislation in 2020, including an omnibus transportation funding package and bills creating both the Virginia Passenger Rail Authority and the Central Virginia Transportation Authority, which serves Planning District 15 (which includes the counties in VACo's Region 3 and several counties in VACo's Region 5). During the most recent round of "Smart Scale" funding allocations, approximately $1.4 billion was available to be awarded, a significant increase relative to previous funding levels, but needs continue to outstrip available funds, as evidenced by the $7.5 billion in project requests originally submitted for consideration.
The legislators in attendance underscored the importance of the federal resources that will be deployed in the Commonwealth during the upcoming special session on the American Rescue Plan Act. Both Delegate Ware and Delegate Willett discussed the critical need for broadband access in their respective districts, with Delegate Willett noting that broadband affordability is a key concern for his constituents. Delegate Willett also indicated that he expects school repair and renovation to be areas of interest in the coming months. He affirmed that great strides have been made in enhancing early childhood education, but noted that more remains to be done to ensure access to pre-K opportunities. As the Chair of the House Health, Welfare, and Institutions Committee's subcommittee on behavioral health, he is particularly interested in adolescent mental health, suggesting that the General Assembly will likely need to revisit staffing levels for school counselors in light of the stresses caused by the pandemic. Delegate Coyner pointed out that despite the influx of helpful federal funding, those dollars are one-time in nature and some needs must be met on an ongoing basis with state dollars, notably teacher salaries. She expressed interest in continuing to work on issues related to substance use disorder and affordable housing.
County representatives in attendance shared their priority issues, with transportation, broadband, and education frequently cited as areas for additional state investment. Continued state support for the rollout of standardized services at Community Services Boards through the STEP-VA program and additional state investment in Medicaid waivers for individuals with developmental disabilities were also discussed, as well as the importance of protecting county land use authority and the ability to address waste management needs.
VACo is grateful to our speakers, sponsors, legislators, planning district commission representatives, and county participants for the productive meeting.
VACo Contact:  Katie Boyle
---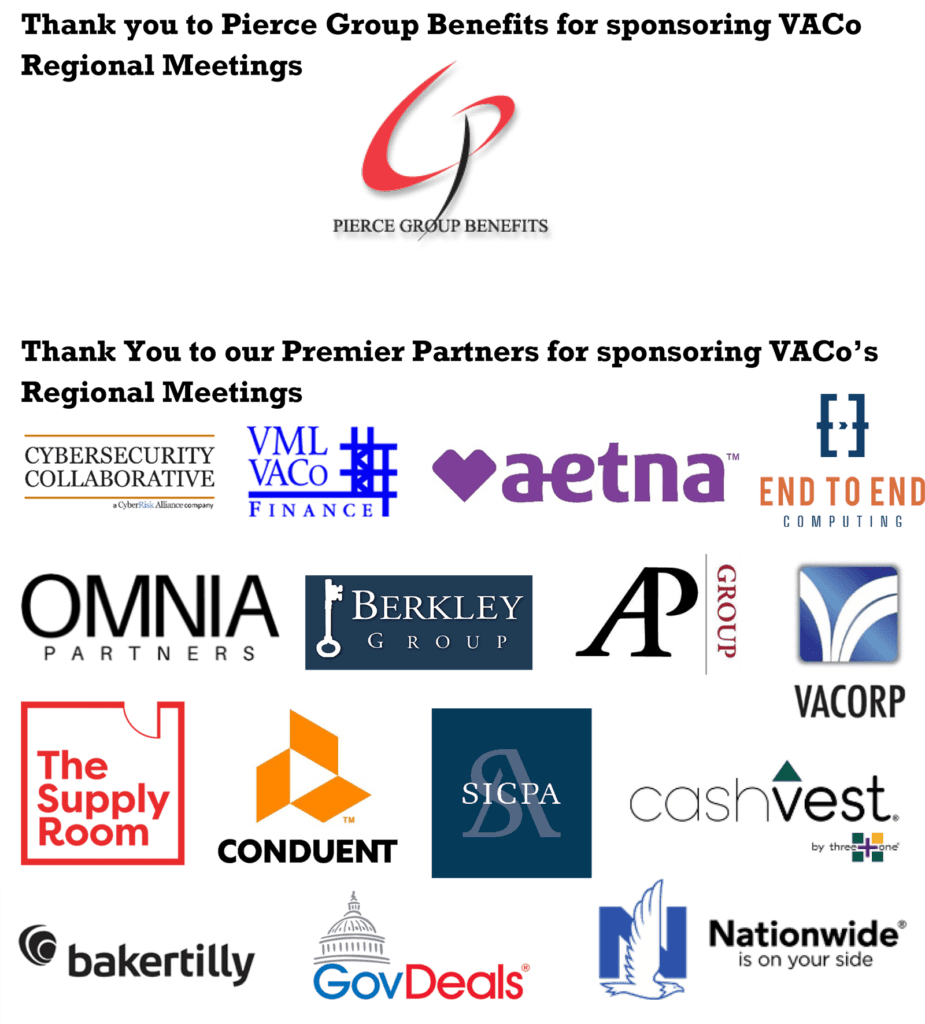 Website Created By