2022 Regional Meetings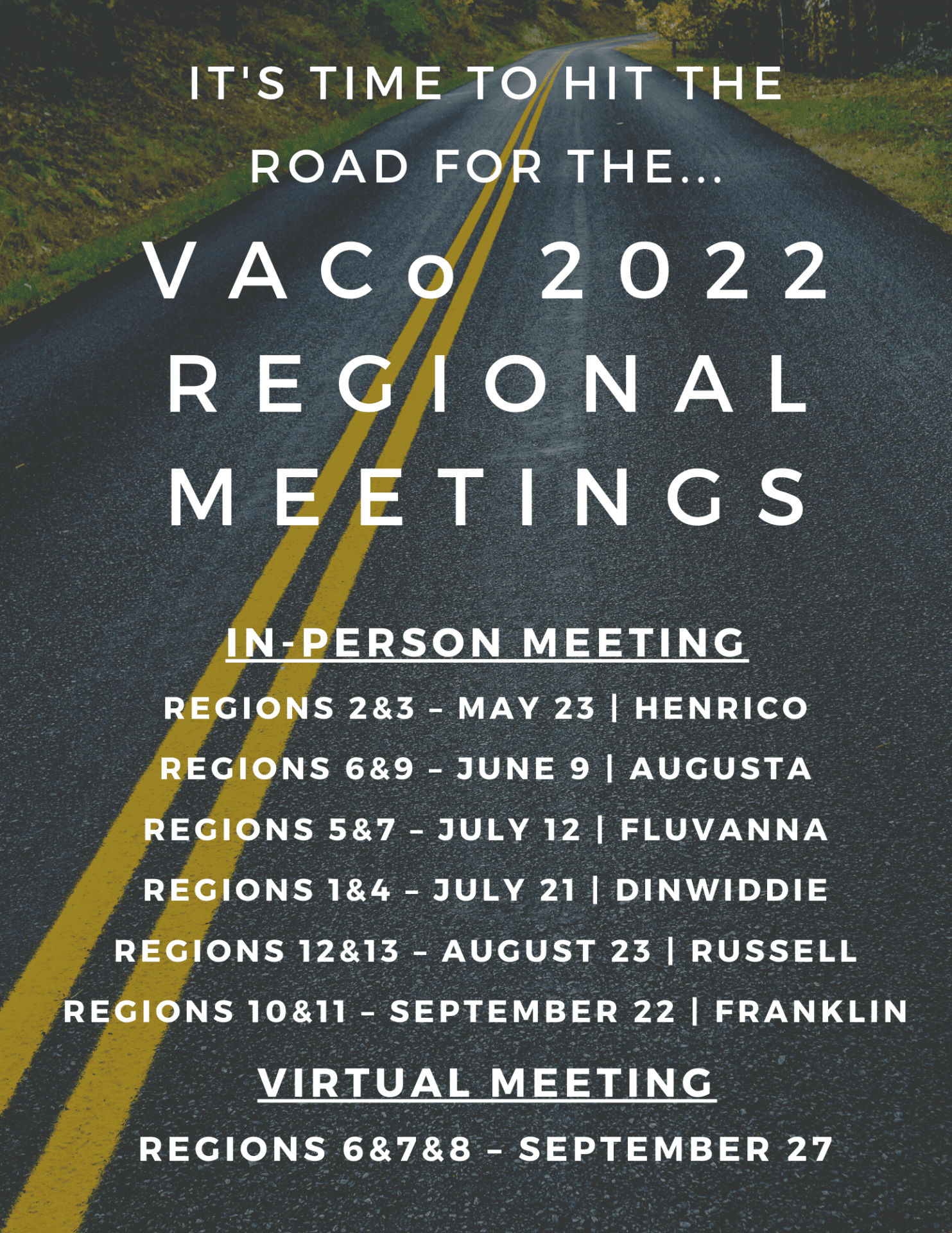 Regional Meetings are held annually to give local elected officials, county administrators and legislators an opportunity to discuss challenges and offer solutions. Discussions are always vibrant and productive. Regional Meetings help steer VACo in the development of its legislative program.
We enjoy visiting our VACo Regions and hearing from our members each year. Here's a list of VACo Regions.
VACo Contact: Karie Walker
---
MAY
Regions 2 & 3 RECAP | Monday, May 23 | 3-5PM | Libbie Mill Library | Henrico County | AGENDA
---
JUNE
Regions 6 & 9 RECAP | Thursday, June 9 | 5-730PM | Valley Pike Farm Market Depot | Augusta County | AGENDA 
---
JULY
Regions 5 & 7 RECAP | Tuesday, July 12 | 4-6PM | Cunningham Creek Winery | Fluvanna County | AGENDA
Regions 1 & 4 RECAP | Thursday, July 21 | 330-5PM | Eastside Community Enhancement Center | Dinwiddie County | AGENDA
---
AUGUST
Regions 12 & 13 | Tuesday, August 23 | 1-3PM | Russell County Conference Center | Russell County | AGENDA
---
SEPTEMBER
Regions 10 & 11 | Thursday, September 22 | The Franklin Center | Franklin County
Regions 6 & 7 & 8 | Tuesday, September 27 | 1-3PM | Virtual Webex
---