Region 9 Legislative Meeting
Tuesday, October 6 | 7-9 p.m.
Rockingham County Administration Center
20 East Gay Street | Harrisonburg, VA 22802
AGENDA
REGION 9
William B. Kyger, Jr. | Supervisor – Rockingham County | Director – VACo Region 9
Alleghany County | Amherst County | Augusta County | Bath County | Highland County | Rockbridge County | Rockingham County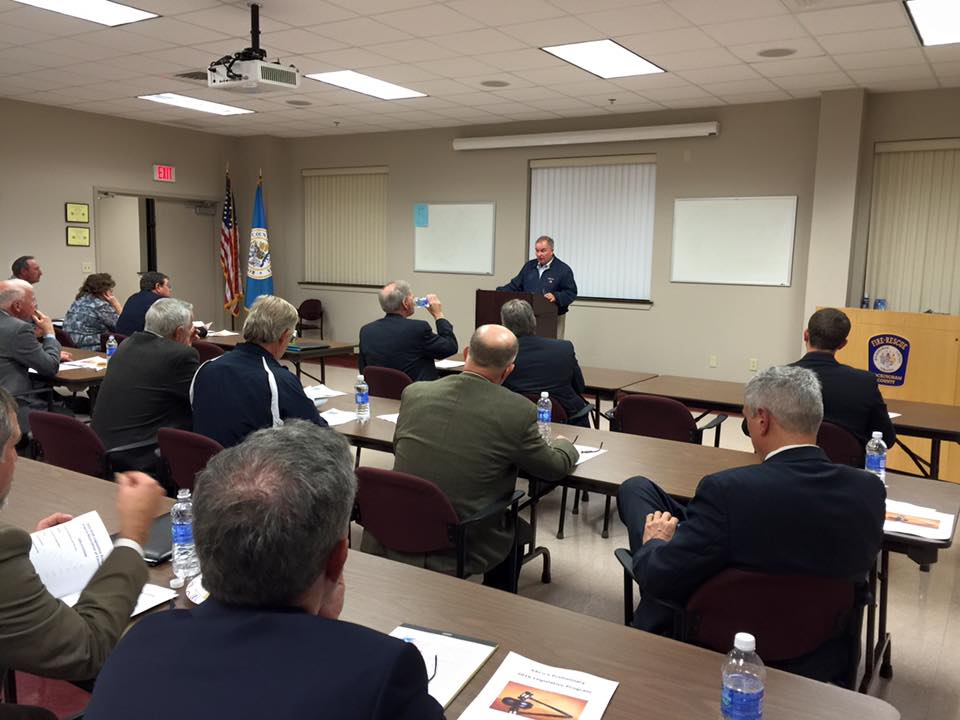 Rockingham County Supervisor Billy Kyger kicks off the Region 9 Legislative Meeting.
VACo holds its seventh regional meeting of 2015
Public education issues dominated discussions during the Region 9 Legislative Meeting held on October 6 in Rockingham County.
The meeting was hosted by Billy Kyger, a long-time member of the Rockingham County Board of Supervisors and former VACo President. Dr. Tom Smith, Virginia Association of School Superintendents Legislative Liaison, opened discussions as he spoke about the critical funding needs facing public education that will hover over the 2016 General Assembly session. Smith said localities now pay 56 percent of the costs associated with Virginia's public education system and this local burden has steadily increased since 2009. Smith also emphasized the need for major changes in the way young people attending public schools are educated, which have undergone few changes since the 19th Century. He told attendees that in order to meet 21st Century demands, we needed to "retool" our approach to educating children.
Another featured speaker was Delegate R. Steven Landes, who acknowledged the financial needs of Virginia's public schools while also stressing the need for local school divisions to operate more efficiently. He said funding for public schools will be limited by whatever revenues will be available. Delegate Landes chairs the House Education Committee and serves as Vice Chair of the House Appropriations Committee.
Delegate Landes and Dr. Smith made numerous references to "Efficiency and Effectiveness of K-12 Spending," a report issued last month by the Joint Legislative Audit and Review Commission.
In addition to public education, meeting attendees also voiced concerns over such issues as stormwater management, dam safety regulations, mental health and the Comprehensive Services Act. The counties that comprise VACo's Region 9 are Alleghany County, Amherst County, Augusta County, Bath County, Highland County, Rockbridge County and Rockingham County.
The event in Rockingham marked the seventh regional meeting over the last six months. These meetings provide VACo members an opportunity to share successes and concerns with each other and with their legislators. Regional meetings are also an important step in the development of VACo's Legislative Program.
We would like to thank all VACo's members for making our regional meetings a big success in 2015. We look forward to many more in 2016.
VACo Contact: Beau Blevins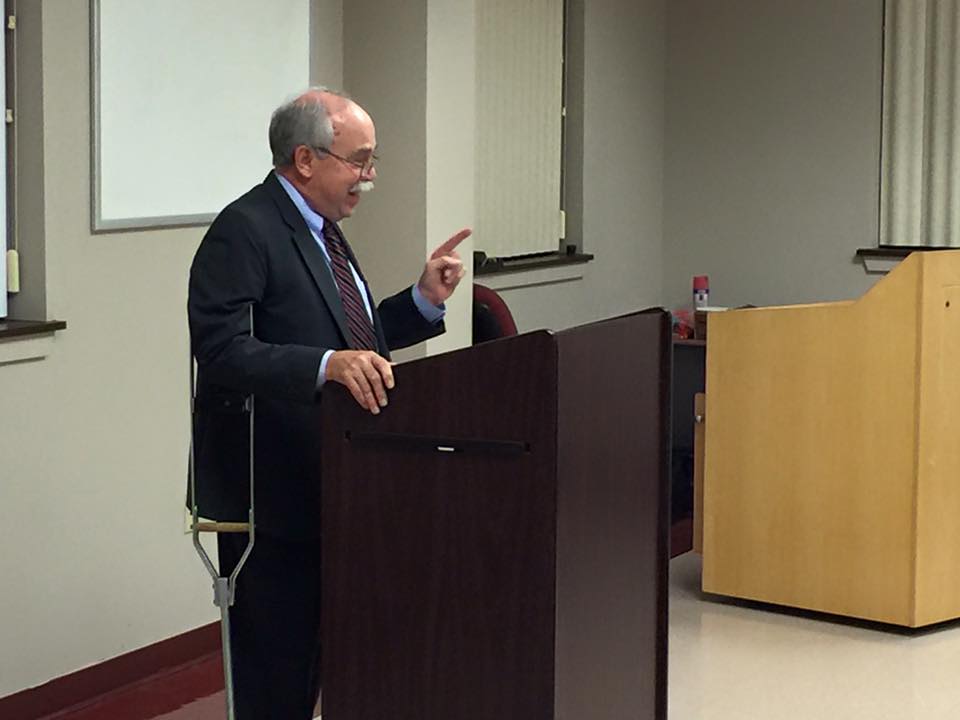 Dr. Tom Smith, Virginia Association of School Superintendents Legislative Liaison, talks education funding.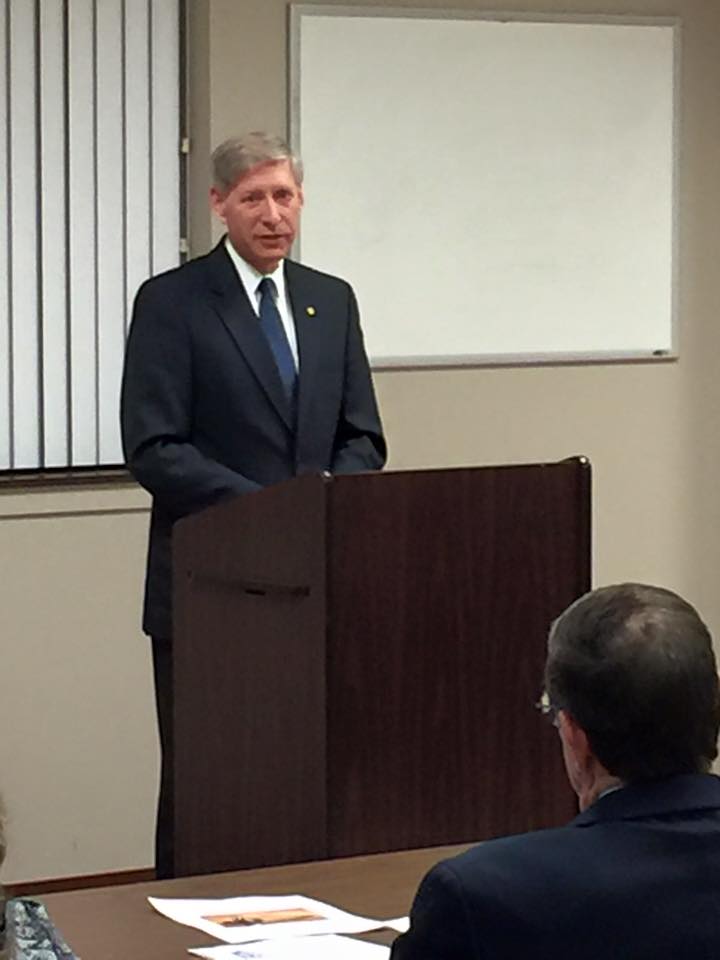 Delegate Steve Landes takes the podium and talks about education funding and economic development.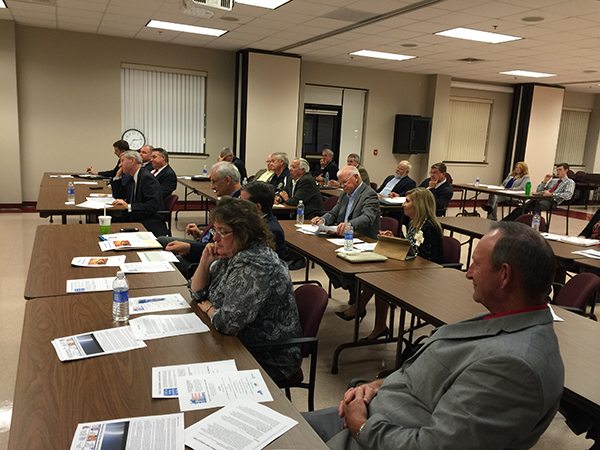 Good county representation at the Region 9 Legislative Meeting.