Broadband Planning Strategies Workshops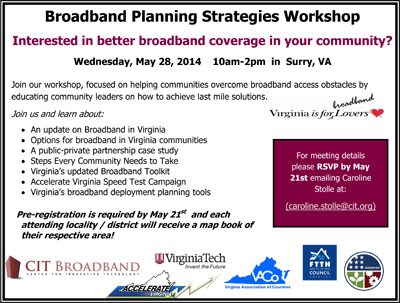 As part of VACo's effort to support the provision of universal affordable access to broadband to all areas in the Commonwealth, we are pleased to sponsor this series of workshops. Hosted by the Center for Innovative Technology, these workshops are provided through Virginia's Recovery Act funded State Broadband initiative and were free of charge with preregistration.
The workshops provided information and tools designed to help communities overcome broadband access obstacles.
IMPORTANT INFORMATION
• Center for Innovative Technology: Broadband Funding Options
• CIT Community Broadband Assistance Program
• Broadband Challenges for the Commonwealth
• All-Internet Household Pamphlet
• Accelerate Virginia in Two Easy Steps
• Policy Considerations for Telecommunications Deployment
• Vertical Assets Inventory Toolkit