Supervisors' Forum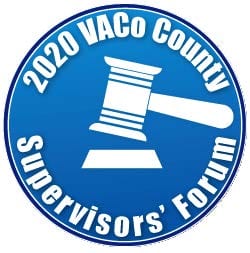 MARCH 20-21 | OMNI RICHMOND HOTEL ROOM INFORMATION
REGISTRATION FORM  |  ONLINE REGISTRATION | AGENDA | Be a Sponsor of the Supervisors' Forum
The VACo County Supervisors' Forum offers local officials an opportunity grow their knowledge base and enhance their skill set by examining many of the critical issues facing counties today. Attendees will engage with experts on topics such as budgeting, school board relationships, land use planning, community engagement, communications, intergovernmental relations, legal issues and more. Don't miss this opportunity to further develop as a leader in your community.
Newly-elected and incumbent supervisors as well as county administrators will leave this conference with the information they need to effectively lead their communities.
The Forum's registration fee of $350 will cover conference materials, a 2019 Virginia County Supervisors Manual, Friday dinner, and Saturday lunch. Spouses who wish to attend the Friday evening dinner may register for $60.
Attendees must register by March 6. Click the link above or download the form and mail it along with a check or charge authorization to VACo, 1207 East Main Street, Suite 300, Richmond, VA 23219, or fax to 804.788.0083.
VACo Contact: Carol Cameron