County Officials' Summit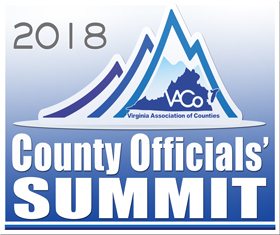 VACo County Officials' Summit | August 16 | Fredericksburg Expo and Conference Center
VACo Steering Committee Meetings | August 16 | Fredericksburg Expo and Conference Center
VACo Board of Directors Meeting | August 17 | Fredericksburg Expo and Conference Center
REGISTRATION FORM  |  REGISTER ONLINE  |  AGENDA
Sponsor the 2018 VACo County Officials' Summit | Sponsorship Form | VACo Contact: Carol Cameron
---

Gubernatorial Candidates address local government leaders at the 2017 County Officials' Summit
VACo welcomed nearly 150 county supervisors, administrators, staff and Association partners on August 21 to the 2017 County Officials' Summit. The Summit, held this year in Albemarle County, offers a chance for county officials from across the Commonwealth to come together and begin to develop what will eventually become the 2018 VACo Legislative Program.
With the 2017 election drawing near, VACo was pleased this year to welcome numerous candidates for statewide office to the Summit. Gubernatorial Candidates Ed Gillespie and Lieutenant Governor Ralph Northam kicked the morning off, each separately sharing their vision for Virginia and their plans should they be elected Governor. Next, Lieutenant Governor Candidates Justin Fairfax and Senator Jill Vogel individually spoke to the Summit and shared their goals for the Commonwealth. All four candidates took questions and spoke to a wide range of topics and priorities important to VACo members, including broadband expansion, local tax authority, education reform, and access to healthcare.
"We are extremely grateful to have had these four candidates join us this year," VACo Executive Director Dean Lynch said. "To be able to have an open and honest discussion with each of them as well as ask them some tough questions about the matters that mean most to us was truly invaluable. Win or lose, we look forward to working with these individuals in the future and are eager to hold them to their pledges."
Following the morning session with the candidates, the rest of the day was dedicated to working on VACo's legislative program and priorities. As in years past, all seven steering committees met and began to fine tune their own platforms. These platforms will be reconsidered and voted on in full at the upcoming Annual Conference and will become the 2018 Legislative Program.
"All in all, this was a tremendously successful Summit," VACo President Mary Biggs said. "We are so happy to not only have heard from the four candidates but also to have started to put together such a robust legislative program. I can't wait to take the next steps at our November conference."
VACo Contact: Chris McDonald, Esq.
---
2017 VACo County Officials' Summit Full Video
Gubernatorial Candidate | Ed Gillespie
Gubernatorial Candidate | Lieutenant Governor Ralph Northam
Lieutenant Governor Candidate | Senator Jill Vogel
Lieutenant Governor Candidate | Justin Fairfax
---
Thank you Asset Protection Group and Aflac for sponsoring the County Officials' Summit.
Thank you Param Solutions for sponsoring the County Officials' Summit.