Supervisors' Forum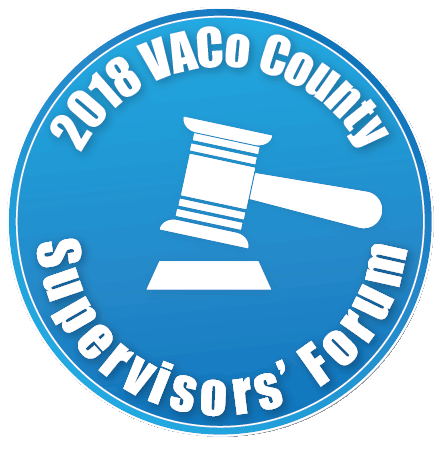 March 23, 2018
Registration Form
Agenda
Register Online
Omni Richmond Hotel
Sponsor this Event!
The County Supervisors' Forum helps supervisors concentrate on critical issues facing counties today: intergovernmental relations, financial responsibilities, schools, economic development, transportation, environmental protection, legal issues and more. An overview of county government and the work of county supervisors are covered.
Newly elected and incumbent supervisors, chief county administrative officers and other government managers should attend. These leaders will come away with information they need to steer their locality forward.
The conference registration fee is $295, which covers County Supervisors' Manual, Friday dinner, Saturday lunch and Sunday lunch. Spouses and guests whom attend may register for $150, which covers those meals.
Click here for the Registration Form.
---
THANK YOU FOR ATTENDING THE 2016 SUPERVISORS' FORUM | BELOW IS A RECAP OF THE EVENT

Please watch our event video | Video
SUPERVISORS' FORUM SPECIAL GUESTS

KEYNOTE SPEAKER
The Honorable William J. Howell | Speaker | Virginia House of Delegates | Watch Speaker Howell's Address
KEYNOTE SPEAKER
The Honorable Gerald W. Hyland | Retired Supervisor | Fairfax County | Watch Hyland's Address
SUPERVISORS' FORUM SESSIONS
THE ROLE OF CONSTITUTIONAL OFFICERS
Robyn M. de Socio | Executive Secretary| Compensation Board | Commonwealth of Virginia | Presentation | Video of Presentation
ETHICS AND CONFLICTS OF INTEREST
Sharon Pandak | Greehan, Taves, Pandak and Stoner | Presentation | Video of Presentation
LAND USE AND PLANNING
Lee J. Tyson | Director of Community Development | Henrico County | Presentation | Video of Presentation
PUBLIC RECORDS AND FREEDOM OF INFORMATION ACT
Phyllis A. Errico | General Counsel | Virginia Association of Counties
Maria J.K. Everett | Executive Director | Freedom of Information Advisory Council | Commonwealth of Virginia | Video of Presentation
BUDGET WORKSHOP
Brenda Garton | County Administrator | Frederick County | Presentation
THE COUNTY ROLE IN HEALTH AND HUMAN RESOURCES
Joseph S. Paxton | County Administrator | Rockingham County | Presentation | Video of Presentation
THE COUNTY ROLE IN TRANSPORTATION
Julie Brown | Director | Local Assistance Division | Virginia Department of Transportation | Presentation | Video of Presentation
THE COUNTY ROLE IN ENVIRONMENTAL PROTECTION
Mike Flagg | Public Works Director | Hanover County | Presentation | Video of Presentation
WORDS OF WISDOM
R. Michael Chandler | Professor Emeritus | Department of Agriculture and Applied Economics | Virginia Tech | Video of Presentation
The Honorable Sherrin C. Alsop | Supervisor | King and Queen County
Patrick J. Coffield | Retired County Administrator | Augusta County
William C. Shelton | Director | Virginia Department of Housing and Community Development