SUPERVISORS' FORUM
March 20 @ 12:00 pm

-

March 21 @ 5:00 pm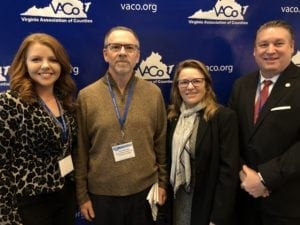 Every two years, newly elected county supervisors all across the Commonwealth step into an important, yet daunting role. County Supervisors must quickly grasp the vast number of challenges facing their communities, while also understanding how to identify and take advantage of exciting opportunities. VACo established the New Supervisors' Forum in order to supplement the strong passion and love for community these county officials bring to the table with practical training and issue education.  This biennial event serves as a two-day boot camp, engaging and familiarizing new supervisors with topics such as community engagement, constitutional officers, conflicts of interest, community planning, and much, much more.
This training event is a must-attend for every newly elected county supervisor in the Commonwealth, and we hope to see you at VACo's 2020 New Supervisors' Forum.
Stay tuned for additional details about sessions, speakers, lodging, and event costs.