Local Government Day at the General Assembly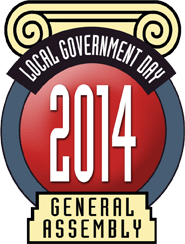 Local Government Day at the General Assembly
February 6
Richmond Marriott
Registration Form
The Virginia Association of Counties, the Virginia Municipal League and the Virginia Association of Planning District Commissions are joining forces to co-sponsor Local Government Day on February 6 at the Richmond Marriott.
VACo and VML staff members will report on legislation affecting local governments, then local officials are encouraged to go to the state Capitol to participate in committee meetings and lobby state legislators. In the evening, local officials are strongly encouraged to invite their state legislators to dinner. Please invite them soon.
9 a.m.
VACo Board of Directors' meeting
9:30 a.m.
VML Board of Directors' meeting
10 a.m.
VAPDC Board of Directors' meeting
11 a.m.
Registration
Noon
VACo and VML Staff legislative briefings (box lunch provided)
Afternoon
Visits to state Capitol
5:30-6:30 p.m.
Cash bar reception for attending local officials
Evening
Make plans to take your state legislators to dinner