2015 Virginia County Board Chairpersons' Insitute
February 5, 2015 @ 8:00 am

-

February 7, 2015 @ 5:00 pm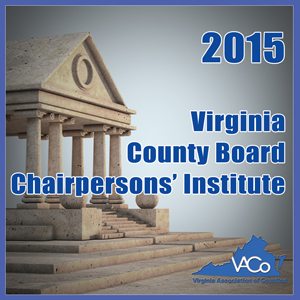 The Virginia County Board Chairpersons' Institute will be held on February 5 -7 , 2015 @ The Richmond Marriott http://www.marriott.com/hotels/travel/ricdt-richmond-marriott/.   Lodging: Officials who need to stay overnight at the Marriott can get a special room rate of $113. For reservations, call 1.800.228.9290 by January 14, 2015 with the following code: VACo Legislative Day.
Enrollment: Institute enrollment will be limited to about 25 participants.  Institute fees: The $295 fee covers course materials, coffee breaks and meals. Spouses and guests who attend may register for $125, which covers the meals. Lodging costs are not covered in the fee. There will be no part-day registrations.

Registration: To register, complete and return this form http://vaco.org/MiscellaneousStuff/ChairpersonsInstitute14.pdf  along with the institute fee of $295, made payable to VACo. The registration deadline is January 14, 2015. Advance registration is required and enrollment is not guaranteed until the registration fee is paid.
Refund Policy: Requests for registration refunds are honored if received by January 14, 2015. However, substitutions are accepted at any time. For more information, call VACo at 804.788.6652.