2020 VACo Annual Conference
November 8-10, 2020
Norfolk Hilton – The Main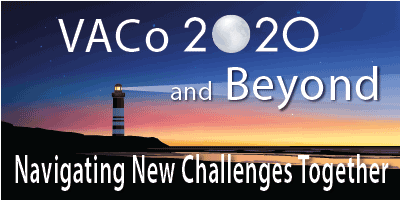 The 2020 VACo Annual Conference has an exciting new venue this year. The conference will be held at the Norfolk Hilton – The Main due to the renovation of 200+ rooms at The Omni Homestead. Watch your County Connections newsletter for more information.
2020 Marks VACo's 86th Annual Conference
Our conference theme this year is "VACo 2020 and Beyond: Navigating New Challenges Together."
Regional Meetings

Steering Committee Meetings

VACo's Annual Business Meeting where the Legislative Program is

adopted

and the Board of Directors is elected for the upcoming year

 

General Sessions feature state representatives, local government leaders and experts in issues that county governments face

 

Breakout Sessions designed to educate and promote collaboration

 

Exhibit Hall with companies and organizations that offer products and services specifically related to local county government

 
Interested in VACo Education? Attending VACo's Annual Conference is a great way to gain a deeper understanding of the challenges and opportunities facing localities. Counties across Virginia often face similar concerns, yet community leaders don't always take advantage of an invaluable resource: their neighbor in the next county over. With roughly 1000 local government officials, state representatives, speakers, and exhibitors in attendance, the Annual Conference is the perfect place to learn from and join forces with your peers from across the Commonwealth. Don't miss this chance to visit with state legislators, learn from the experts, and experience the benefits of collaboration and innovation with your fellow local leaders.
CONFERENCE REGISTRATION
Registration for VACo's 86th Annual Conference is scheduled for release in mid-August. Bookmark this page or watch for more information in the County Connections newsletter. the 2020 annual conference registration information will be sent out in mid-August, along with a draft agenda and opportunity to register for the VLGMA Luncheon. Please remember that reserving hotel rooms does not automatically register anyone for the conference. Watch for the conference registration information later this summer.
LODGING INFORMATION
A VACo block has been set up for exhibitors at the Marriott Waterside Norfolk, and at the Norfolk Hilton for county supervisors, staff, VIPs and speakers. Room reservations must be either faxed or emailed (fax # & email shown on room form) to request lodging for the VACo Annual Conference; no phone call room reservations will be taken. You must use the room reservation form provided to get the VACo block pricing.  NOTE: Do not send your room reservation forms to VACo; they need to be sent directly to the hotel. Currently, room reservations are limited to county board members, county staff and confirmed exhibitors/sponsors. Call VACo at 804.788.6652 for more information.
MEALS DURING THE CONFERENCE
To make dining reservations, please see restaurant listing and contact information here.

CONFERENCE SPONSORSHIP
The VACo conference could not be possible without the support of our sponsors and premier partners. Sponsorship provides an opportunity for your company to have visibility in the conference program book, conference promotional materials, posted on our website and in our newsletter, as well as on social media. Sponsorship can be an important part of your marketing strategy. 2020 VACo Annual Conference Sponsorship Form
2020 EXHIBIT HALL
The exhibit hall will be open on November 8 and 9. The layout of the exhibit hall at the Norfolk Hilton will resemble what our vendors have become accustomed to as much as possible. The deadline for renewals and the extended early-bird rate has passed and booth pricing is currently at the regular rate.  2020 EXHIBITOR APPLICATION   Booth Availability List (updated 6/30/2020)
Contact Karie Walker, Coordinator of Programs and Development, for more information: Ph. 804.343.2504 or kwalker@vaco.org.
VACo's ANNUAL GOLF TOURNAMENT CANCELED
The annual golf tournament has been canceled for the 2020 conference. We look forward to offering this event again in 2021.
VLGMA LUNCHEON
The Virginia Local Government Management Association Luncheon will be on Monday, November 9. This is a ticketed event and is not included in the conference fee.  VLGMA registration form