2018 VACo Annual Conference
November 11-13, 2018
The Omni Homestead
Bath County, Virginia

This year's theme is COMMONWEALTH OF OPPORTUNITIES: Preparing Counties for the Future.
The 2018 conference registration form will be posted in mid-August.
The Annual Conference is VACo's premiere event. This VACo event includes:
Steering Committee Meetings
VACo's Annual Business Meeting where the Legislative Program is adopted and the Board of Directors is elected for the upcoming year
General Sessions feature state representatives, local government leaders and experts in issues that county governments face
Breakout Sessions designed to educate and promote collaboration
Exhibit Hall with companies and organizations that offer products and services specifically related to local county government
Specialized group meetings focused on directed topics for different county positions
Multiple team-building opportunities and networking with peers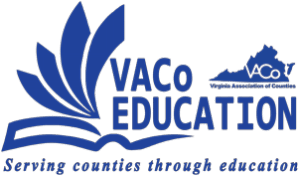 VACo Education provides a forum where information is shared. We understand that many counties face similar issues and by making connections at events, VACo members can collaborate on innovative ways to improve Virginia's communities. With roughly 950 local government officials, state representatives, speakers and exhibitors in attendance, it is the perfect opportunity to learn and join forces with peers from across the state. Attendees take away an abundance of knowledge and new ideas through connections with colleagues.
EXHIBITING IN 2018
Booth renewals and/or applications from new exhibitors are now being accepted. New exhibitors welcome! Early-bird prices ended May 31st; regular pricing is now in effect. Questions?  Call us at 804.788.6652.      LIST OF AVAILABLE BOOTHS FOR SALE  (Updated 7/11/2018)
Application – You do not have to be a VACo Associate Member to be an exhibitor but if you are, you will receive a $50 discount on your booth. Application download link: 2018 EXHIBITOR APPLICATION.
We're excited about our new exhibit hall layout. Check it out here: 2018 EXHIBIT HALL.
EXHIBITOR FAQs
Are you a new exhibitor looking for information? Here is a comprehensive list of the most frequently asked questions and answers:  EXHIBITOR FAQ'S
 2018 SPONSORSHIP & ADVERTISING OPPORTUNITIES
Plan ahead and secure your 2018 VACo Conference Sponsorships. 
Advertisements for the conference program book are due no later than September 7. Want to advertise but can't make it to this year's conference? No problem, download the advertisement form and return before September 7 to have your ad reach your target audience.
LODGING INFORMATION
Due to the limited number of rooms available at The Omni Homestead, the VACo Board of Directors adopted a Lodging Policy. Accordingly, a copy of the room reservation form was sent to county administrators, VACo Board of Directors and confirmed exhibitors in mid-June. Alternative lodging options are available near The Omni Homestead; however, please note that VACo does not have negotiated agreements with any of these establishments: LIST OF ALTERNATIVE LODGING
OTHER CONFERENCE EVENTS

2018 VACo Annual Golf Tournament

Registrations are being accepted for the golf tournament to be held Saturday, November 10. Mulligans are $5 each or 5 for $20.
GOLF REGISTRATION FORM   REGISTER ONLINE
The 2018 VLGMA Luncheon is Monday, November 12 from 12:45-2 pm. This luncheon is not included in the cost of the conference registration; separate registration is required.
VLGMA REGISTRATION FORM      REGISTER ONLINE
---