2016 VACo Annual Conference
Registration for the 2016 exhibit hall is well under way. The exhibit dates this year are November 13-14. Part of the fun is the opportunity to win a free exhibit booth at the following year's conference. The winner of the 2016 free booth was VEDP (Virginia Economic Development Partnership), a longtime exhibitor at the VACo Conference.
Another event that people look forward to every year is the Exhibitor Drawing. VACo exhibitors generously donate items and winners are determined by drawing their completed booth visitation card from a box.
Click the + symbol below for more information on these exciting events.
EXHIBITOR DRAWINGS
VACo holds two drawings during the conference - one is Monday at 3 p.m. in the exhibit hall, and the second one is immediately after the VACo business meeting on Tuesday. Donated items are provided by exhibitors and other conference sponsors. Donated items should include a business card or some other identification so proper recognition can be given to your company or organization during the drawings. Winners are determined by drawing completed drawing cards.
The prize limit (exhibitor giveaway) is $100. The exhibitor is responsible for adhering to the gift limit of $100 and for listing the value with the gift for reporting purposes.
EXHIBITOR'S INDIVIDUAL FISH BOWL DRAWINGS
Exhibitors may conduct their own separate "fish bowl" drawings if they wish with the following conditions: Winner's names should be drawn by 1 p.m. on Monday, November 14, and posted on the bulletin board at the VACo registration desk. Exhibitors are responsible for notification & delivery of prizes won via fish bowl drawings at their booth. The prize limit of $100 applies also applies to fish bowl drawings.
FREE BOOTH DRAWING
Exhibitors have the opportunity to win a free booth for the following year's conference. To be eligible, your booth must still be set up and be present at the time of the drawing on Monday afternoon after the drawing.
VACo Regional Meetings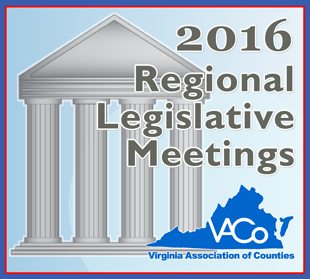 VACo Region 8 Meeting
June 22 | 7-9pm
Loudoun County
Agenda
Region 8 Meeting Webpage
VACo Contact: Dean Lynch
County Employment
The Virginia Association of Counties accepts employment ads in a WORD file or pasted inside an e-mail. Please do not fax your employment ad.
VACo members are not charged for placing an employment ad. The cost is $50 per ad for non-VACo members. VACo publishes the ad on its website and mobile website and on its Facebook and Twitter pages as well as the upcoming County Connections issue.
If you have any questions or concerns, please
e-mail Gage Harter.