VACo Videos
VACo supports county efforts to produce video communications.
2014 Annual Conference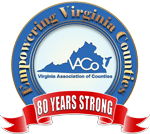 November 9-11
Bath County
Annual Conference Page
Annual Conference Registration Materials
Agenda
Annual Conference Program
Contact Carol Cameron with questions
County Employment
The Virginia Association of Counties accepts employment ads in a WORD file or pasted inside an e-mail. Please do not fax your employment ad.
VACo members are not charged for placing an employment ad. The cost is $50 per ad for non-VACo members. VACo publishes the ad on its website and mobile website and on its Facebook and Twitter pages as well as the upcoming County Connections issue.
If you have any questions or concerns, please
e-mail Gage Harter.